Peranakan Wedding Theme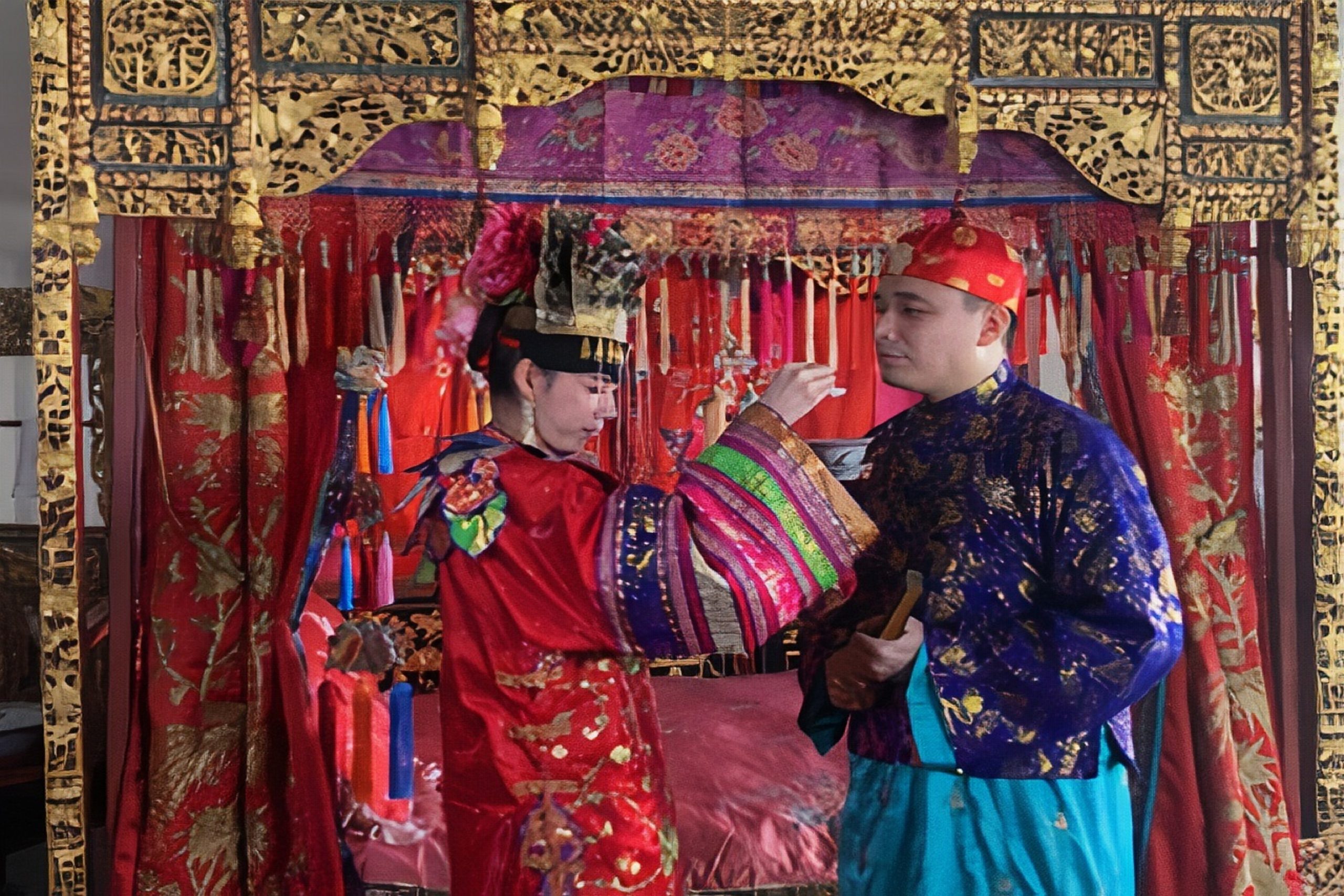 PINANG PERANAKAN MANSION

We're all for a cultural wedding theme, but a multicultural wedding means doubling the happiness! Largely based on Chinese tradition with Malay, Thai, and Burmese influences, a Peranakan wedding is one of the fascinating and colourful wedding ceremonies around town. What used to be a twelve-day long celebration is now more simplified – but some rituals managed to withstand the test of time, such as the Chinese wedding ritual of hair combing ceremony and tea ceremony. On the wedding day, the matron of ceremony seats the couple on a bed, under which a basket containing a rooster and a hen is placed. According to Peranakan belief, if the rooster comes out first, it signifies that the first born will be a boy! Though traditions are essential to a Peranakan wedding, fine details and ornaments are equally important, so be sure to surround yourself with a colourful galore of beautiful Nyonya kebaya, kasut manik (beaded shoes), fine Nyonya porcelain ware, bakul siah (dowry trays) and delicious Peranakan cuisine. Opt for this theme, and we promise that this would be one to remember for a lifetime.
Malay Wedding Theme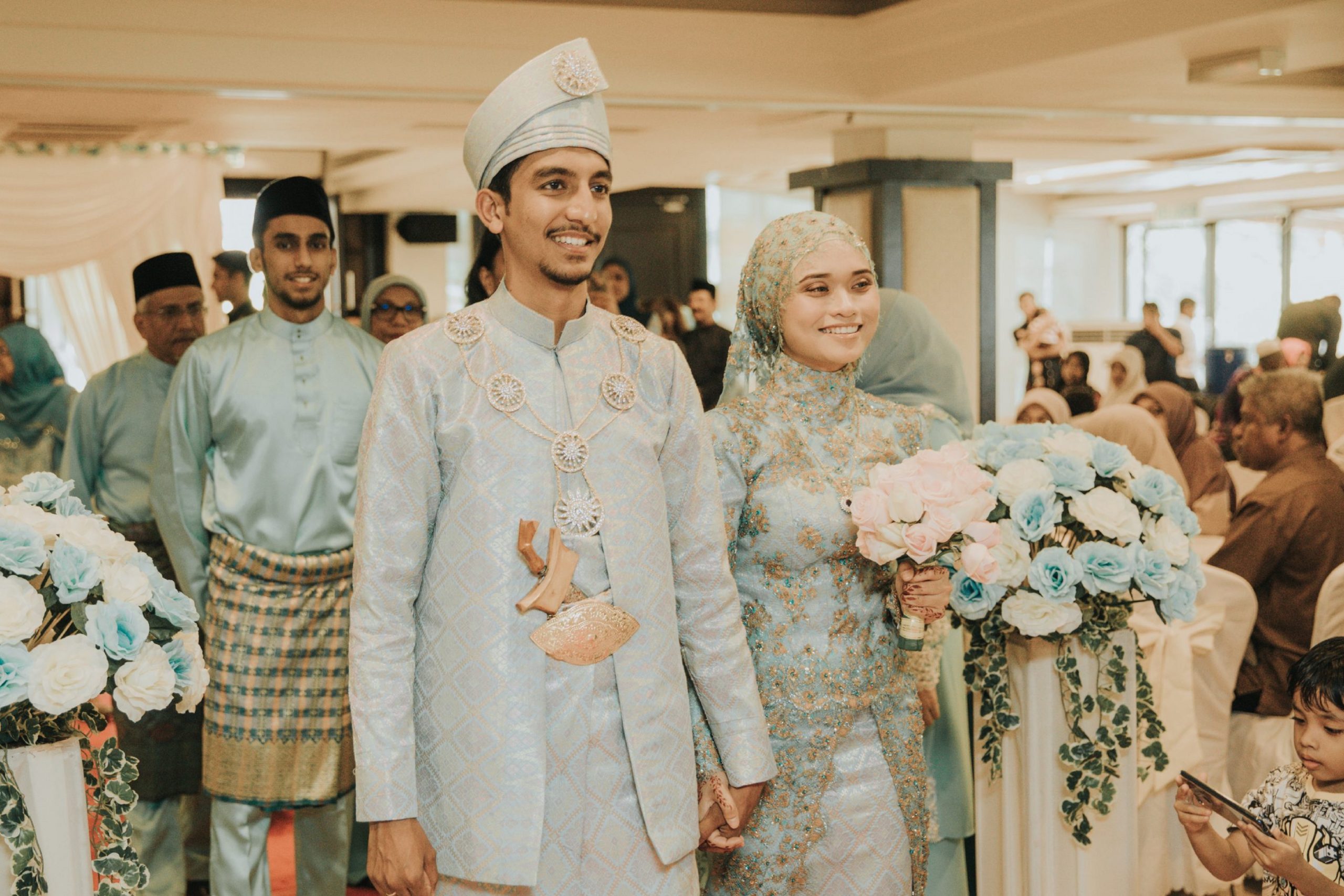 MOMENTO WEDDING
Draw inspiration from the Malay community if you want a to be treated like royalties for your wedding. In a typical Malay wedding, newlyweds are accorded the term Raja Sehari (King for a Day) and will be treated just like royalties! Brimming with adat (customs), the newlyweds begin their royal treatment with adat berinai, where family members gather to decorate the hands of the newlyweds with henna three days before the wedding day. On the big day, the festive beat of the kompang, a traditional Malay drum, will announce the arrival of the wedding royals. Customarily, the wedding couple will be seated on a beautifully decorated pelamin, which is a raised platform decorated to resemble a throne. Family members and distinguished guests will then be invited to bless the newlyweds with rose water and bunga rampai (a potpourri of thinly sliced flowers and pandan leaves) in the upacara merenjis (blessing ceremony).
Indian Wedding Theme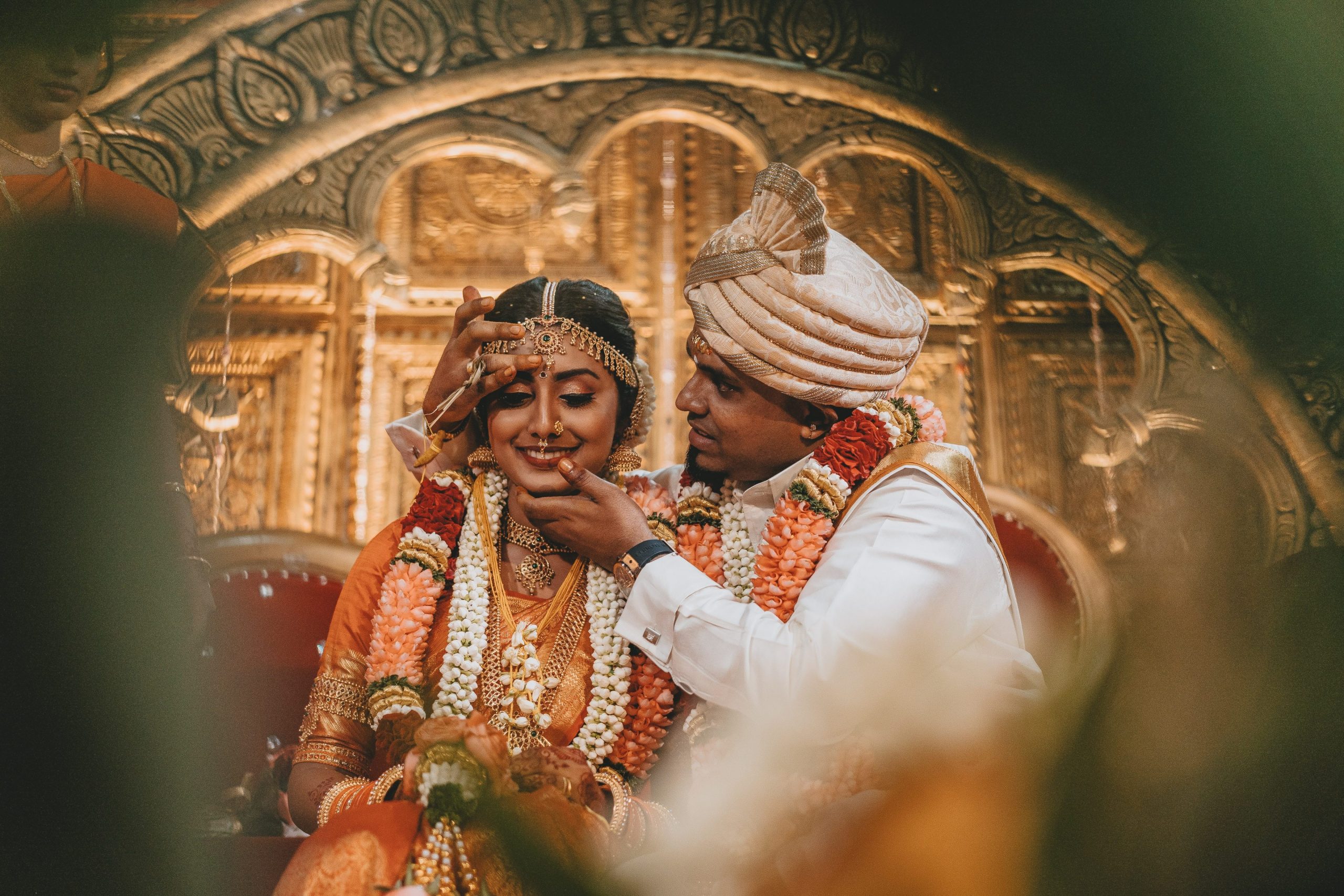 ANDREWKOE-STUDIO
For those looking for splashes of colours and Bollywood festivities, an Indian wedding theme may be right up your alley. Indian weddings are the epitome of glam where the bride is dressed in the finest saree, donned with haldi (herbal product) and decked with gold. The groom steps out in a sherwani, worn over a kurta. In a typical Indian wedding, tying the Thali (gold necklace) is the highlight of the evening, where the groom ties a thali around his bride's neck as a symbolic act of the couple's eternal ties. Soon after, the newlyweds performs a ritual known as Sapta Padi, where they circle a sacred ceremonial fire seven times – each time promising to love one another, to embrace each other's families like their own, to go through thick and thin together, to care for their offsprings, to cherish each other, to support each other's goals and to remain lifelong friends. Guests will then be invited to celebrate the union with a massive feast of authentic Indian food and loads of dancing!
Chinese Wedding Theme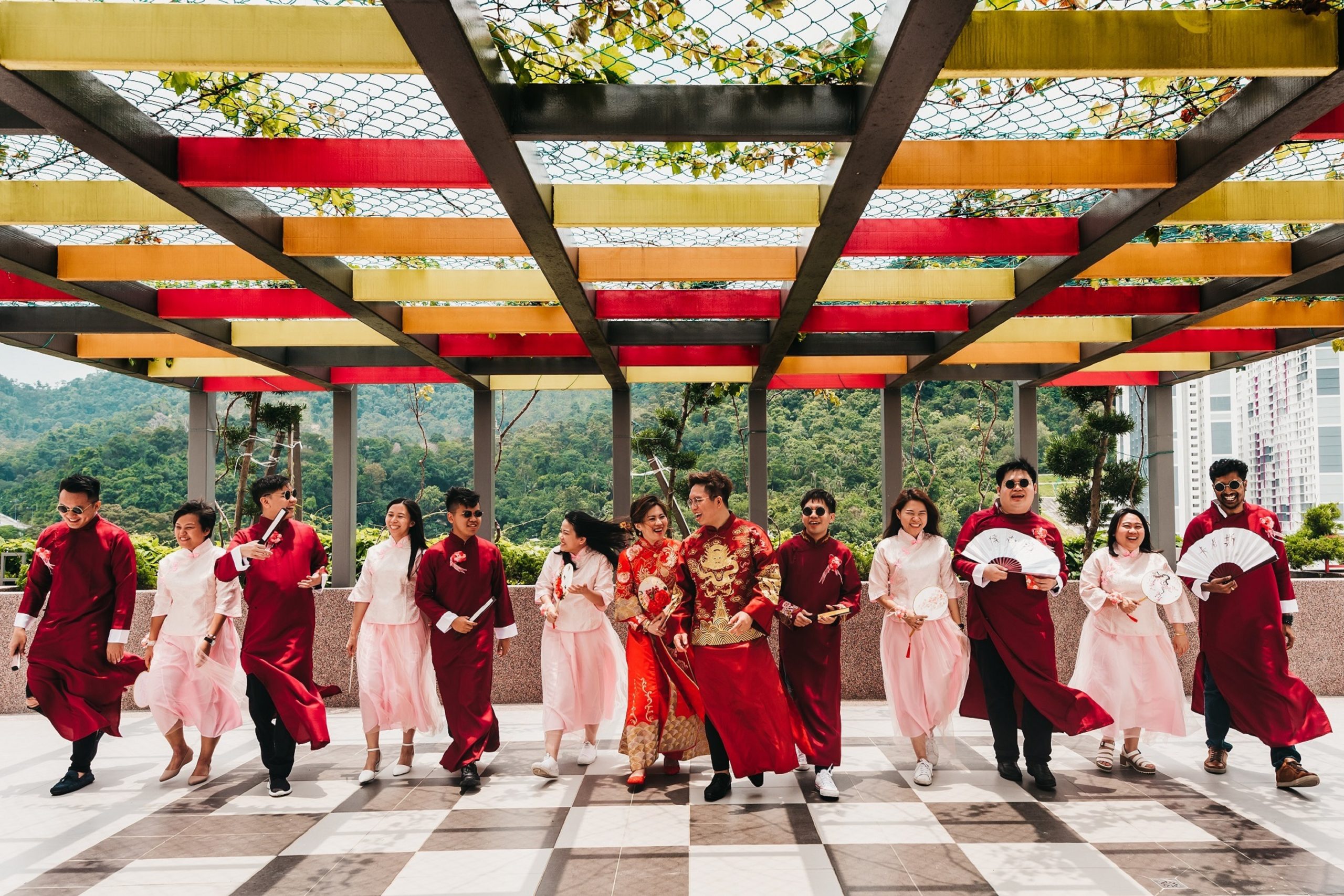 MY LOVE MOMENTZ PHOTOGRAPHY
A traditional Chinese wedding is steeped in meaningful and sometimes bizarre rituals. The night before the wedding, newlyweds must go through a hair combing ceremony. It begins with the couple taking a bath in water filled with pomelo leaves to ward off evil spirits. Then, the couple slips into new pyjamas and slippers and have their hair brushed by a female relative with good fortune. The actual wedding day begins with the loud honking from a convoy of cars to announce the arrival of the groom and his heng tai (groomsmen) for a fun-filled gatecrashing ceremony! They are asked to play a series of games by the ji mui (bridesmaids) so expect to see the groom and his entourage performing backbreaking yoga poses or even endure a leg waxing procedure! Once they have accomplished all the tasks and 'bribed' the maid of honour with a red packet, the lucky groom gets to see his bride and proceeds with one of the most significant events in a Chinese wedding – the tea ceremony. Here, the newlyweds are required to serve tea to the elders in the family as a sign of respect and to introduce the newlyweds to each other's family formally. After serving tea to the elders, it's time for the newlyweds to be served by the younger generations! In return, the couples will give out red packets to the children. At night, guests are treated to an elaborate 8-course wedding banquet.
Contemporary Wedding Theme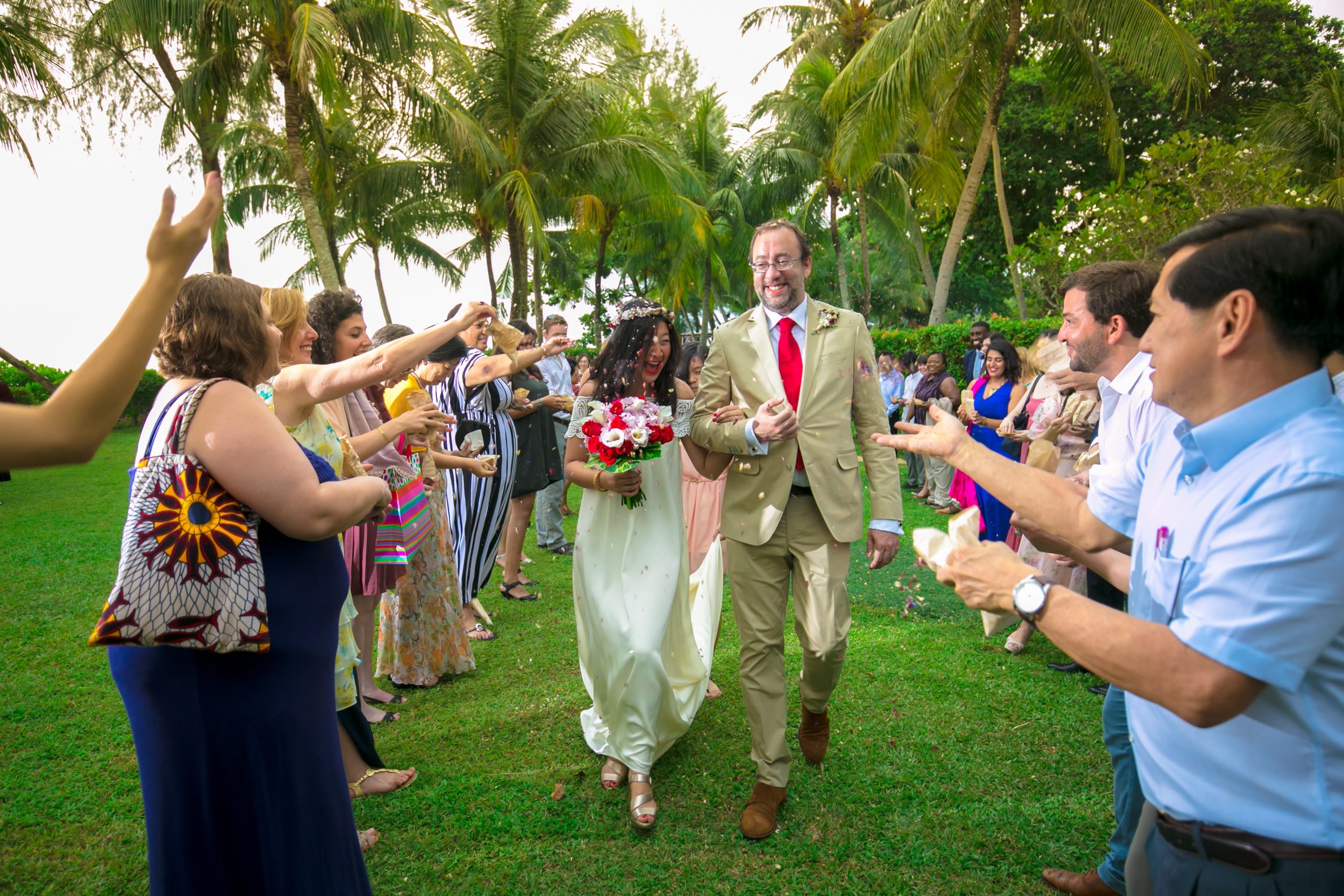 BAYZ CREATIVE PHOTOGRAPHY
There is no shortage of contemporary wedding themes in Penang to get your heart fluttering, from a romantic beach wedding to a glamorous wedding, or a nature-inspired theme wedding! Beach weddings are extremely popular in Penang, thanks to the lavish beach resorts dotting the idyllic coastline of Tanjung Bungah and Batu Ferringhi. Some of these resorts feature sprawling lawns too, which can be used for a garden theme wedding! Those dreaming of a luxury wedding can opt for a glamorous theme wedding and here is where you are spoilt for choice! From luxurious heritage mansions to five-star hotels by the bucketload, these elegant venues will set the mood for your glamour-filled wedding. Nothing shouts nature-inspired wedding more than a ceremony in the glades of a 130 million-year-old virgin rainforest in Teluk Bahang or on the peak of the iconic Penang Hill, so bring in rustic, nature-based elements to create a memorable occasion your guests will not want to miss.