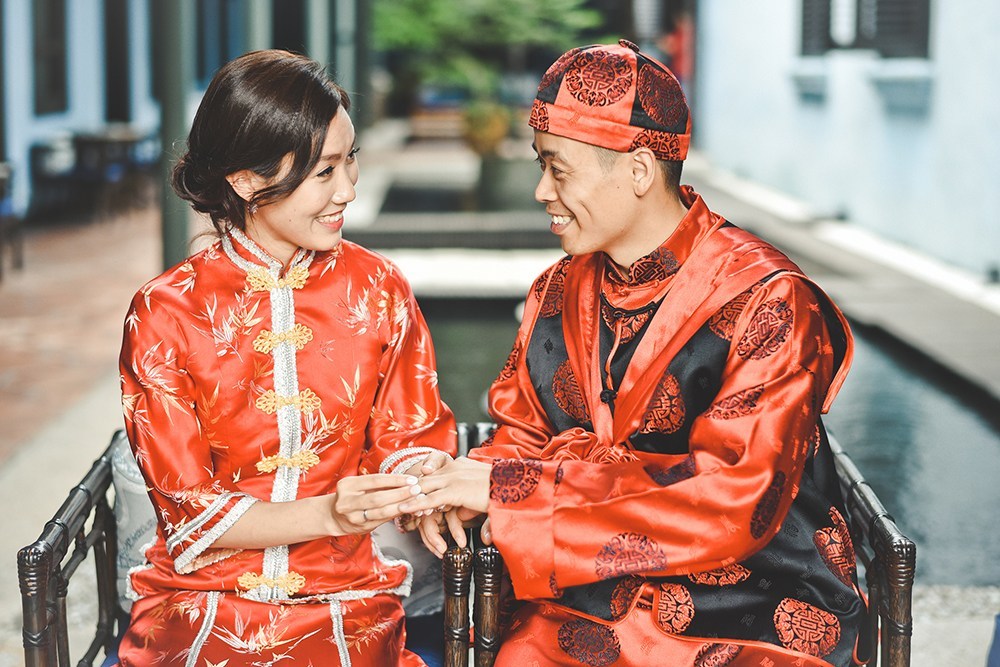 Credit: Andrew Yep Photographie
So, you want a Chinese-themed wedding (you've always dreamed of red qun kua, and you love everything oriental!) but you don't know where to begin. We're here to help! Here's what you need to know about Chinese-themed weddings in Penang!
Prewedding Customs
A traditional Chinese wedding is steeped in meaningful and sometimes bizarre rituals. The wedding eve or "lau tia meh" begins with the couples taking a bath in water filled with pomelo leaves to ward off evil spirits. Then, they slip into new pyjamas and slippers and have their hair brushed by a parent, where sage advice is passed down, and auspicious sayings are rendered to signify their transition into maturity. For this hair-combing ceremony, two red candles will be lit. Also required are a sharp comb, red string, and a hand mirror.
The bridal bed is decorated in red bedsheets and the double happiness motif to signify an auspicious beginning to lifelong marital bliss.  A couple of pomegranate fruits are laid on top of the bed to symbolize fertility. No one raises an eyebrow when a little boy begins jumping on the bridal bed — he's just encouraging the birth of male offspring!
It is considered bad luck for the bride and groom to see each other on this night, so the merriment is celebrated separately.
Wedding Day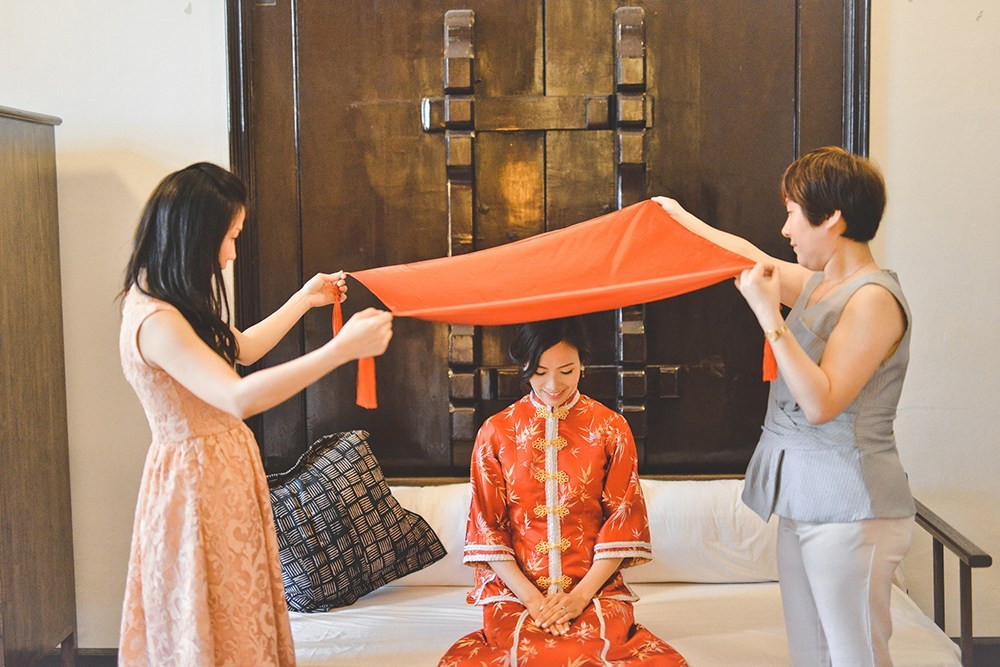 Credit: Andrew Yep Photographie
The actual wedding day begins when the parents or relatives of the bride place a red veil over her head to drive away the evil spirits and to cover the nervous bride. Then, the bride waits patiently for the groom's arrival.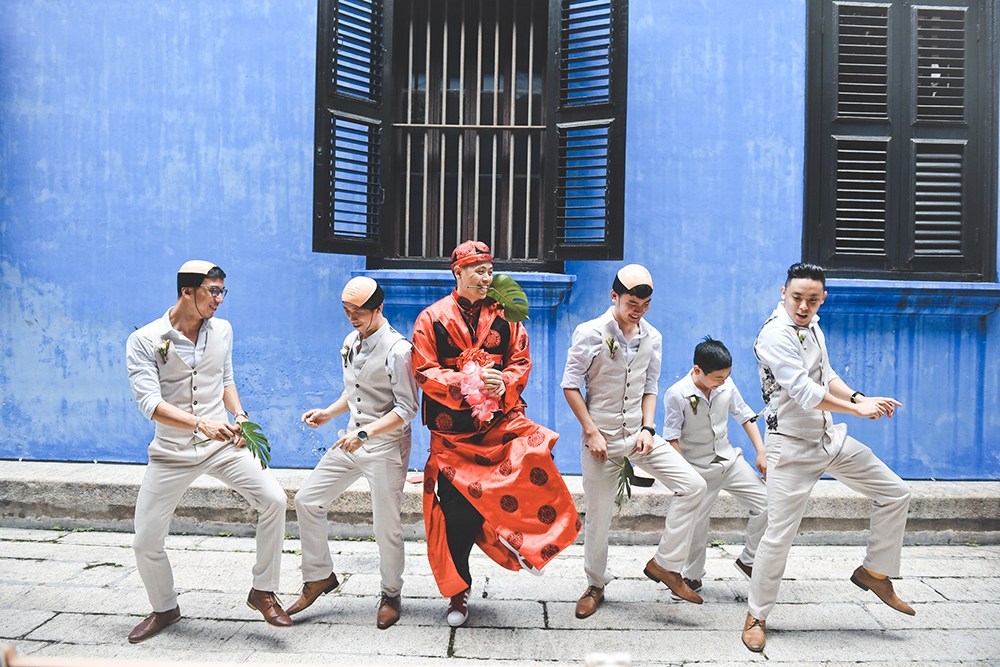 Credit: Andrew Yep Photographie
A loud medley of honking from the groom's convoy of cars announce the arrival of the groom and his heng tai (groomsmen). Upon the groom's arrival, a door boy (representative from the bride) opens the door of the car for the groom.
Then, a fun-filled gatecrashing ceremony begins! Typically, the groom and his heng tai are asked to play a series of games by the ji mui (bridesmaids) as a ceremonial demonstration of the groom's love for the bride, so expect to see the groom and his entourage performing backbreaking yoga poses, eating strange food or even endure a leg waxing procedure!
"The boisterous fetching of the bride and the pranks the groom and his groomsmen endure before they are allowed inside the bride's house is not traditional. It was inspired by Hong Kong television from the 1980s," says Darren Lim, co-founder of Bridalgram, a renowned wedding directory website.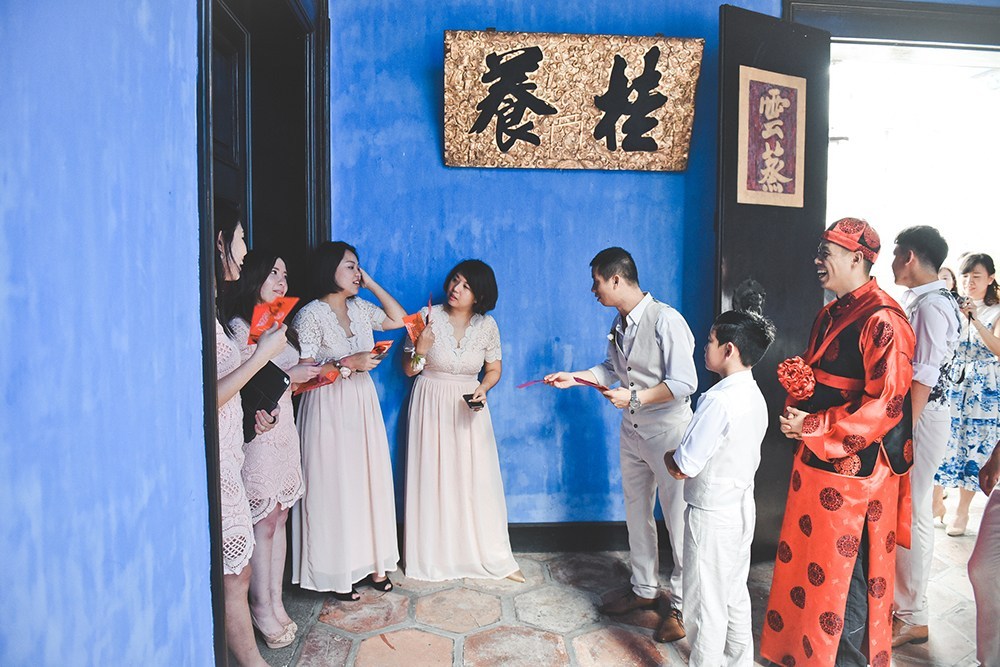 Credit: Andrew Yep Photographie
After enduring various 'trials and tribulations' at the gatecrashing ceremony, the groomsmen offer a red packet to each bridesmaid to convince them to let the groom enter. The bridesmaids are allowed to bargain for more money! Once both sides agree to a sum, the groom is finally granted the passage to enter the room to unveil his bride!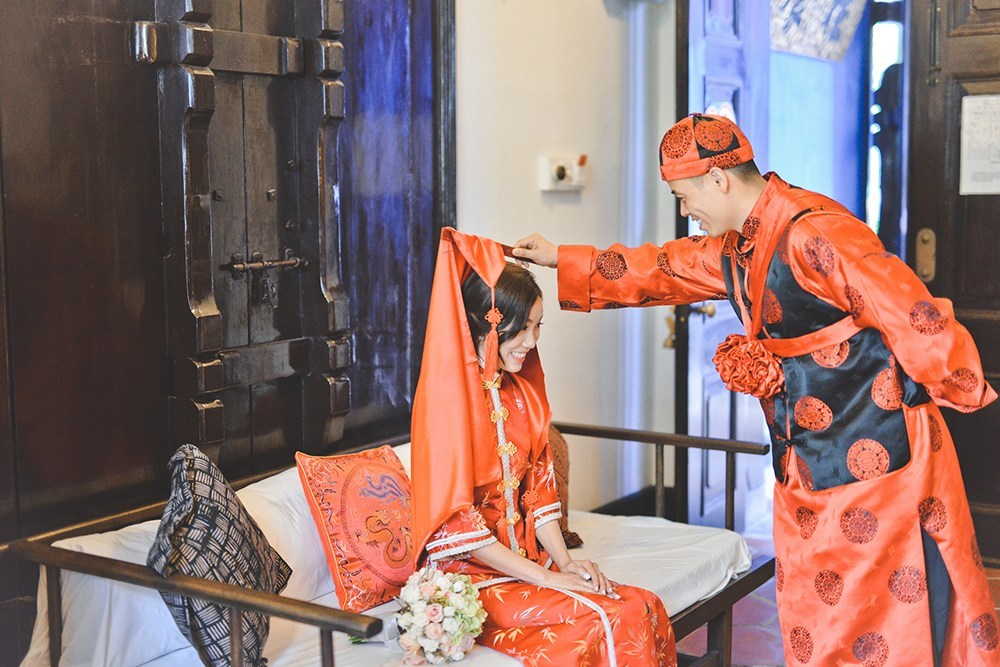 Credit: Andrew Yep Photographie
Tea Ceremony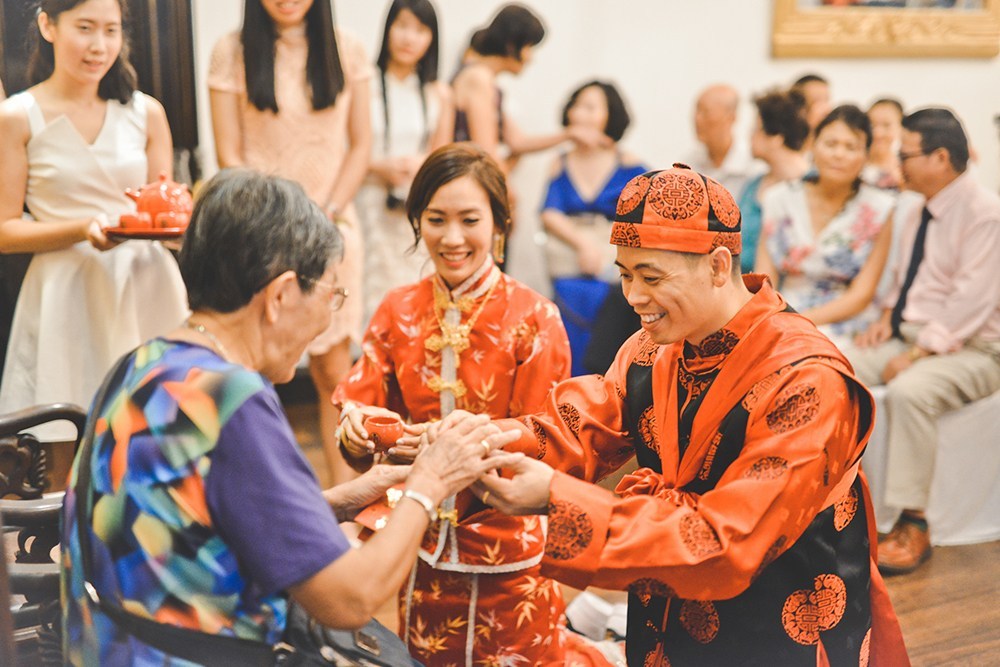 Credit: Andrew Yep Photographie
After unveiling the bride, the day then proceeds with one of the most significant events in a Chinese wedding – the tea ceremony. The bride and groom offer tea in kneeling positions to their respective parents, in-laws, and close and distant relatives, calling them by the designated Chinese titles. In return, they receive a token red packet containing money or gold jewellery.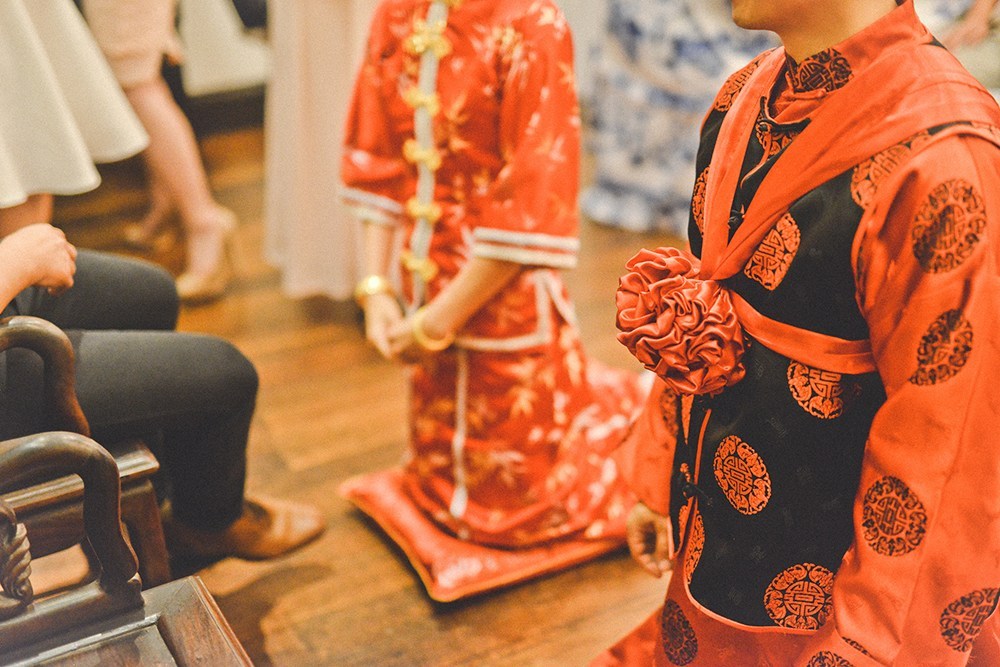 Credit: Andrew Yep Photographie
Wedding Banquet
After the tea ceremony, Chinese couples would host a wedding banquet in the evening. It is usually done in a grand manner in accordance with the couple's financial means.
A wedding march down a red carpet under a floral arch with rousing applause from the appreciative dinner guests marks the beginning of the Chinese wedding banquet. During the eight-course dinner, the bride and groom go around the tables to drink a toast with all the wedding guests.
Guests raise their glasses to a raucous 'yam seng,' or toast, each table trying to outdo another in terms of length of toast and volume. Amidst the merriment, the master of ceremony teases the groom and bride into kissing one another or displaying affection.
Wedding Attire
Many Chinese couples wear traditional qun kua (for the bride) and tang suit (for the groom) outfits for the big day.  Their two-piece outfits often feature dragons and phoenixes — symbols of a harmonious marriage. Both pieces are usually in red and gold — the traditional bridal color.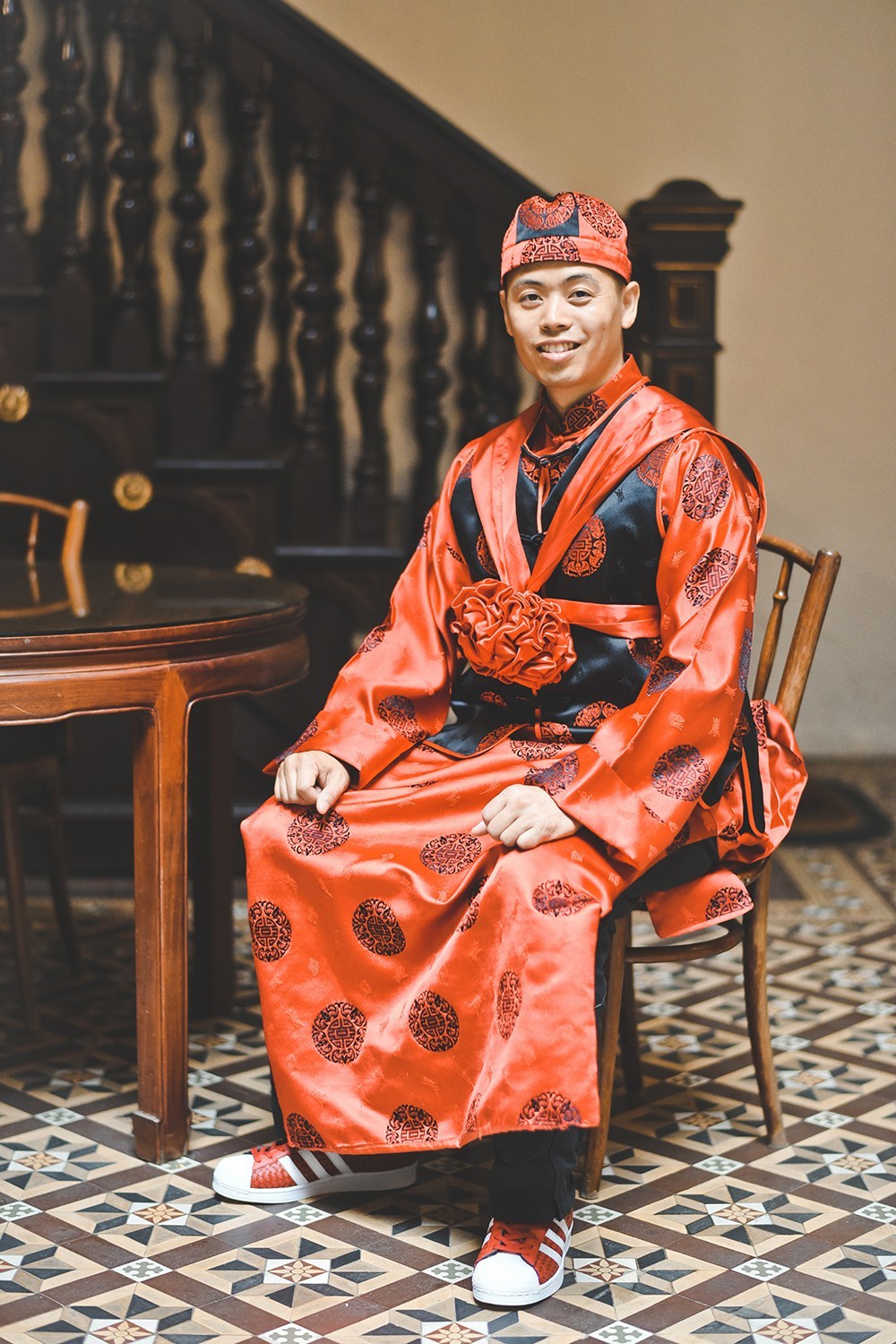 Credit: Andrew Yep Photographie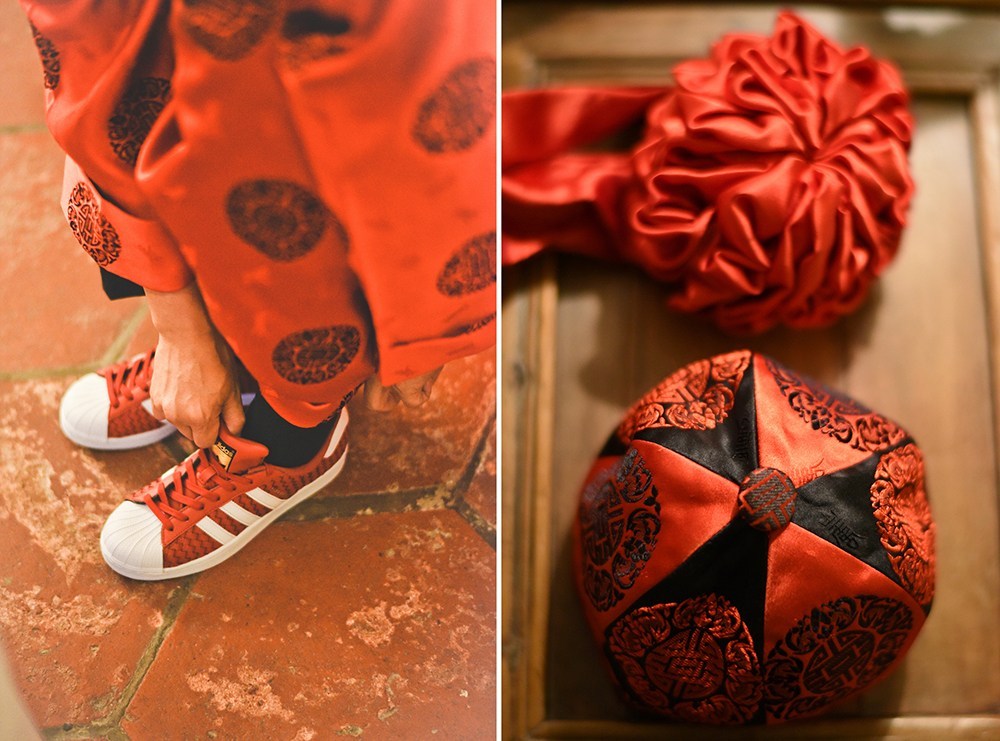 The groom usually wears a sash forming an "X" with a giant bow or flower, along with a matching cap. Credit: Andrew Yep Photographie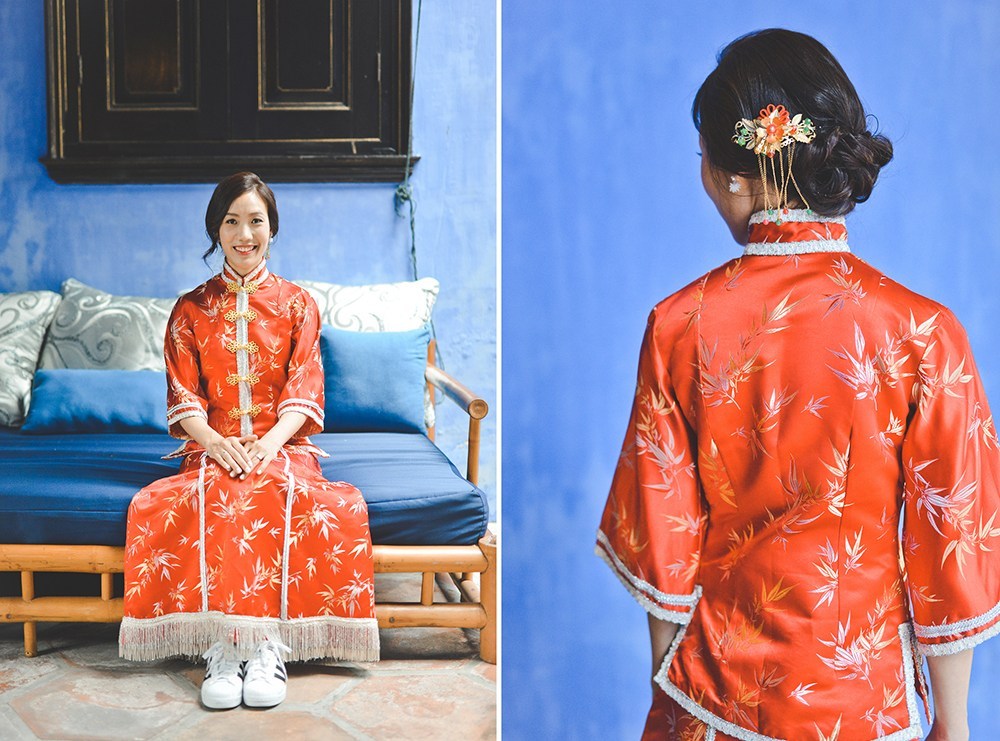 Credit: Andrew Yep Photographie
This red qun kua with gold leaf design is just one of many traditional outfits a Chinese bride would wear on her big day. This bride chose to wear her mother-in-law's traditional red qun kua for the tea ceremony. "It was one of the most memorable pieces that I will add to our treasure chest of family stories, in addition to hosting our wedding at the Blue Mansion. That area is where I grew up, and we had the best time celebrating with our closest family and friends," she says in an interview with The Wedding Notebook.
Food & Entertainment
Tradition dictates a formal eight-course Chinese banquet filled with symbolic food and auspicious names. Fish and prawns are some of the must-have dishes. "Fish is a must in any Chinese dinner. Fish represents abundance, so it is wishing that the couple have a plentiful life in marriage. Meanwhile, the Cantonese word for prawns is "Ha" which is similar to the sound of laughter. So, having prawns symbolises a lifetime of laughter for the couple and their family," says Darren.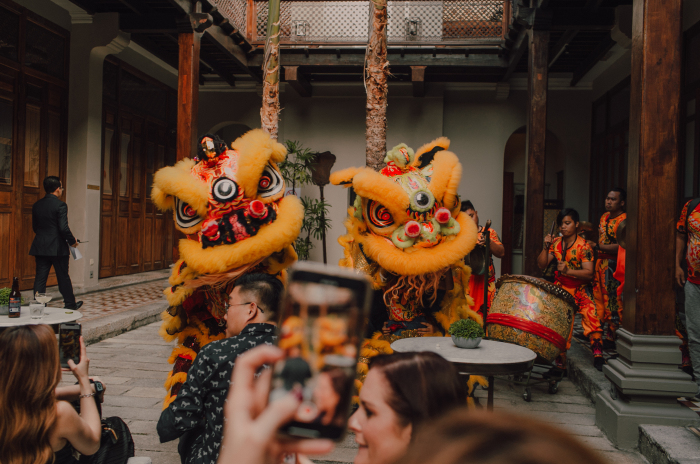 Credit: Amelia Soo Photography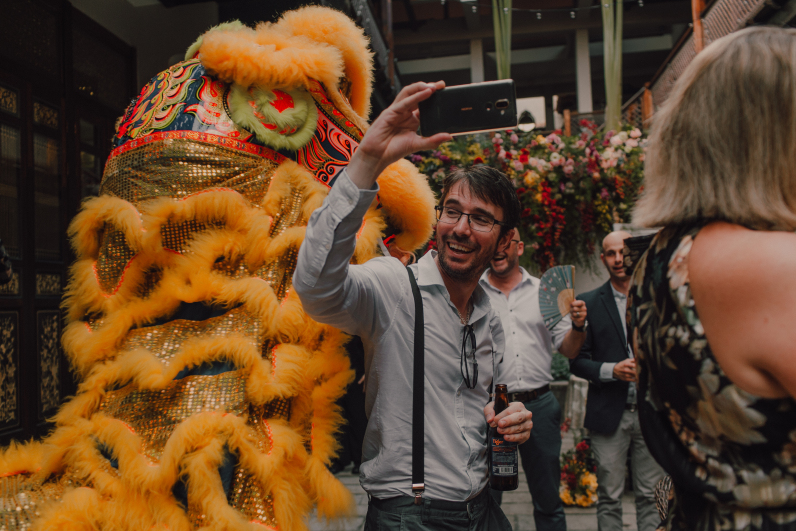 Credit: Amelia Soo Photography
If there's one thing that's a staple at weddings, it's the entertainment. Treating your guests to a lion dance performance is a great way to inject some Chinese culture and to entertain your guests. "Lion dances are believed to possess the ability to ward off evil spirits and to bless a momentous occasion.
"Typically, the lions will make their rounds around the room for guests to interact with them by 'feeding' them red packets! To ensure smooth interaction, prepare red packets in advance for your guests," says Darren.
Wedding Favours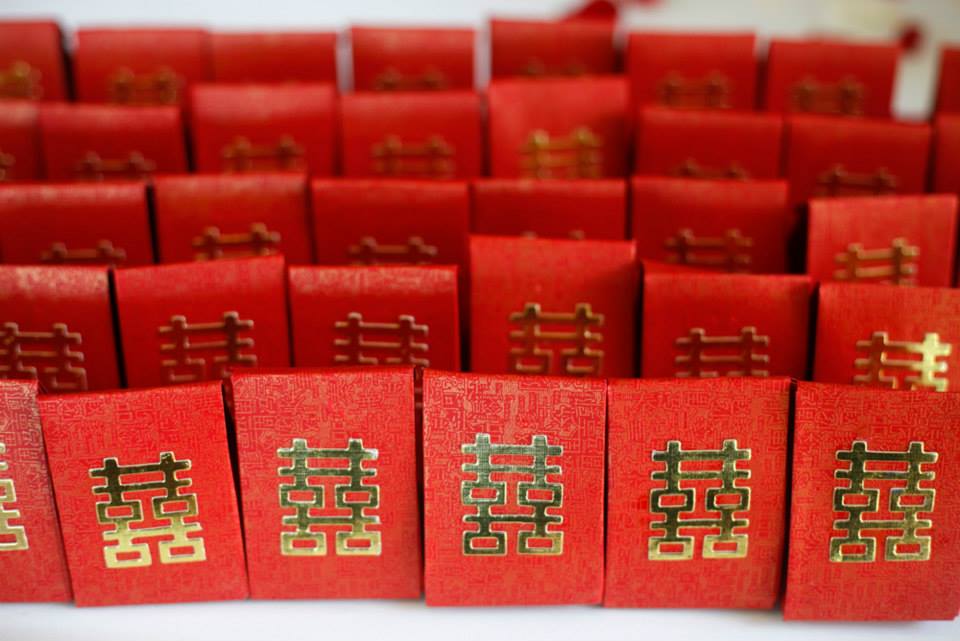 One way you can make your Chinese-themed wedding memorable is to send your guests home with small gift boxes of edibles like fortune cookies and sweets. "If you want to give your guests something functional, you can never go wrong with a pair of chopsticks or a miniature dim sum steamer. Sometimes, simpler is better, so consider gifting your guests lottery tickets and hope someone strikes it big!" says Darren.
Suggested Wedding Itinerary
Most destination weddings are multi-day events, lasting three to eight days. To help you plan your travels better, we speak to wedding planner Jess Loh from Touching Hearts Wedding Concepts to come up with a suggested itinerary for your big day in Penang.
Note: Remember, each wedding itinerary is unique. If you have not done your dress fitting or your prewedding photography session, do consider to plan for more days. It is also best to hire a wedding planner for a stress-free wedding in Penang.
Day 1: Welcome to Penang! Take a good rest after checking in to the hotel.
Day 2:
Meet with your wedding planner to go through the final details, such as the schedule of the wedding days, guest seating list, and other essential details.
Inspect the wedding venue and meet with the person-in-charge of the venue.
Day 3 and 4:
Meet up with photographer and cinematographer.
Marching rehearsal can be conducted during these days, provided if the bridal party has arrived in Penang.
Have a trial make up session on your wedding eve! You'll look gorgeous for the prewedding traditions at night such as the hair combing ceremony.
Day 5: This is the day of your wedding, which entails the following programmes:
Bride veiling ritual
Groom's arrival
Gatecrashing ceremony
Groom unveiling the bride
Tea ceremony
Wedding banquet
Day 6: ​This is a day for fun and relaxation. Give guests a list of fun activities in the area.
Day 7:​ How about visiting Penang's many attractions, places further away from the hotel?
Day 8:​ Time to say your farewells.
Related Links