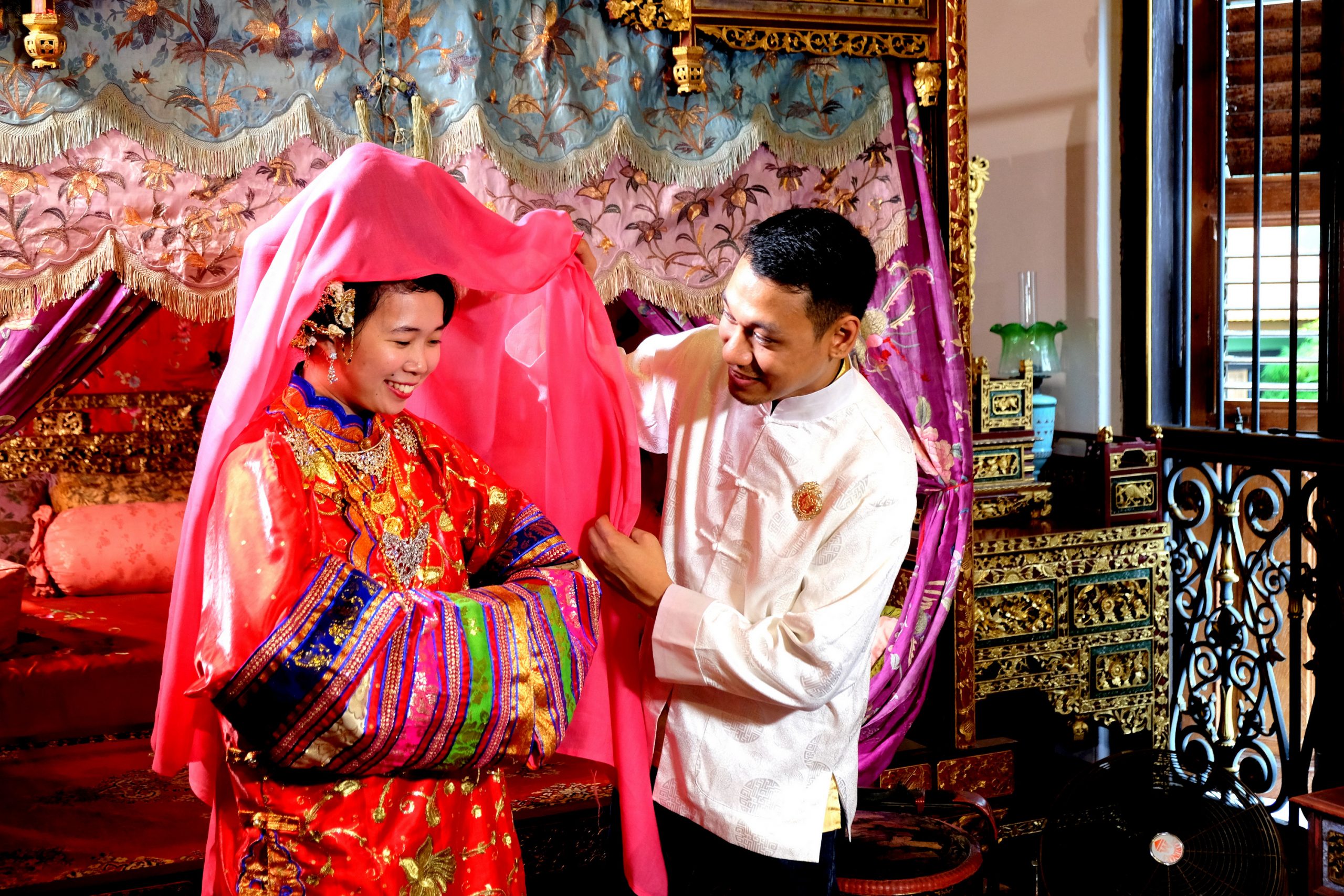 Credit: Pinang Peranakan Mansion
We're all for a cultural wedding theme, but a multicultural wedding means doubling the happiness! Based mainly on Chinese traditions with Malay, Thai, and Burmese influences, a Peranakan wedding is one of the most fascinating and colourful wedding ceremonies in town. In the past, Peranakan weddings could stretch up to a month, then it was reduced to fifteen days and finally to twelve days. Trays of gold jewelry were paraded in the streets by servants in a blatant display of wealth.
Today, Peranakan weddings have evolved into simpler forms. With proper planning, couples can still experience a Peranakan-themed wedding, which highlights the grandeur of Peranakan elements while honouring much-treasured traditions and rituals. Opt for this theme, and we promise that this would be one to remember for a lifetime.
Prewedding customs
While there are a myriad prewedding customs in a Peranakan wedding, lap chai (gift exchange ceremony) and khui tiah (bridal shower) are some of the simpler prewedding customs suitable for destination weddings.
Lap chai is a meaningful custom meant to signify the couple's engagement and create a social setting for the families to acquaint themselves with one another. It involves the bride's family inviting the groom's family for lunch, tea or dinner. The groom's family arrives with beautifully decorated gift-bearing trays and the bride's family then reciprocates with half the number of trays presented by the groom's family.
After the lap chai ceremony, the couples can proceed with khui tiah, a ritual similar to bridal shower. This custom is done separately by the couples. Today, modern brides choose to throw a Peranakan-style bachelorette party before they tie the knot.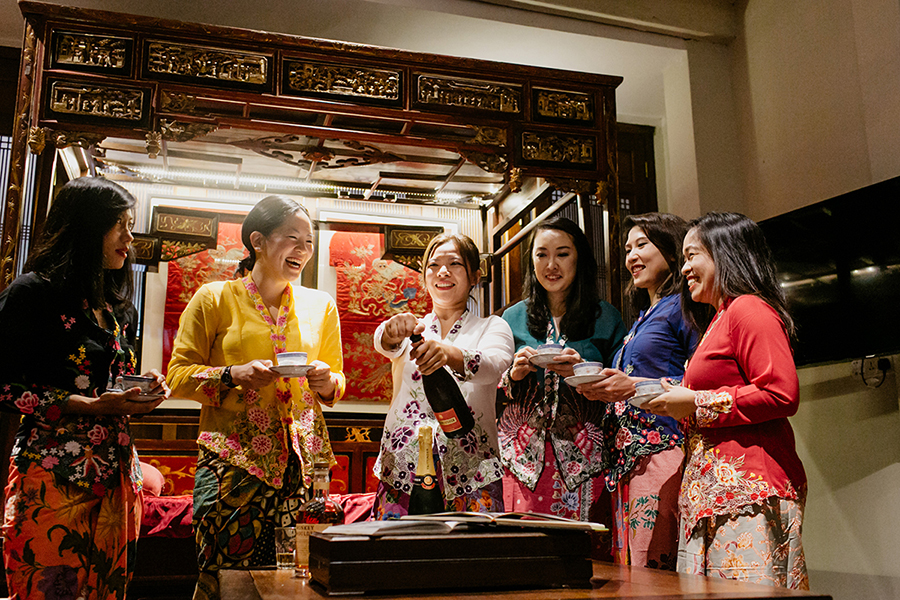 Peranakan-themed bridal shower. Credit: Amelia Soo Photography
Wedding Day
On the wedding day, the couple goes through a ritual known as cheo thau (hair combing ceremony) separately. For the Peranakan, this sacred tradition symbolises the couple's transition from childhood to adulthood. Cheo thau is a long ceremony beginning from hair combing to finally being dressed in beautiful traditional wedding attires. The couple's hair is combed four times — first stroke for marital harmony, second stroke for a resilient marriage, third stroke for progeny and an unbroken lineage, and the final stroke for mutual respect among the spouses. Parents then dress the couple in their wedding attires. For the bride, a veil is placed over her head, and she waits for the groom's arrival.
The groom arrives, heading a procession of musicians and men carrying umbrellas and lanterns. Then, chim pang ceremony commences. The ceremony marks the first meeting between the couple. The bride leads the groom into her bridal chamber to unveil the veil covering her face. Together, they eat a bowl of kueh ee (small white and red dumplings in sweet broth). Chim pang is often regarded as the couple's first meal as a husband and wife, and the bowl of kueh ee denotes a sweet beginning for the couple.
After the chim pang ceremony, the traditional tuang teh (tea ceremony) commences. The Peranakans do not use Chinese tea for this ceremony — the 'tea' is a concoction of boiled ang choe (red dates), dried longans, and rock sugar. The newlyweds serve tea to their grandparents, parents, and relatives, according to seniority. In return, the couple, especially the bride, is gifted with red packets of money or gold trinkets.
T'ng Tok (Wedding Banquet)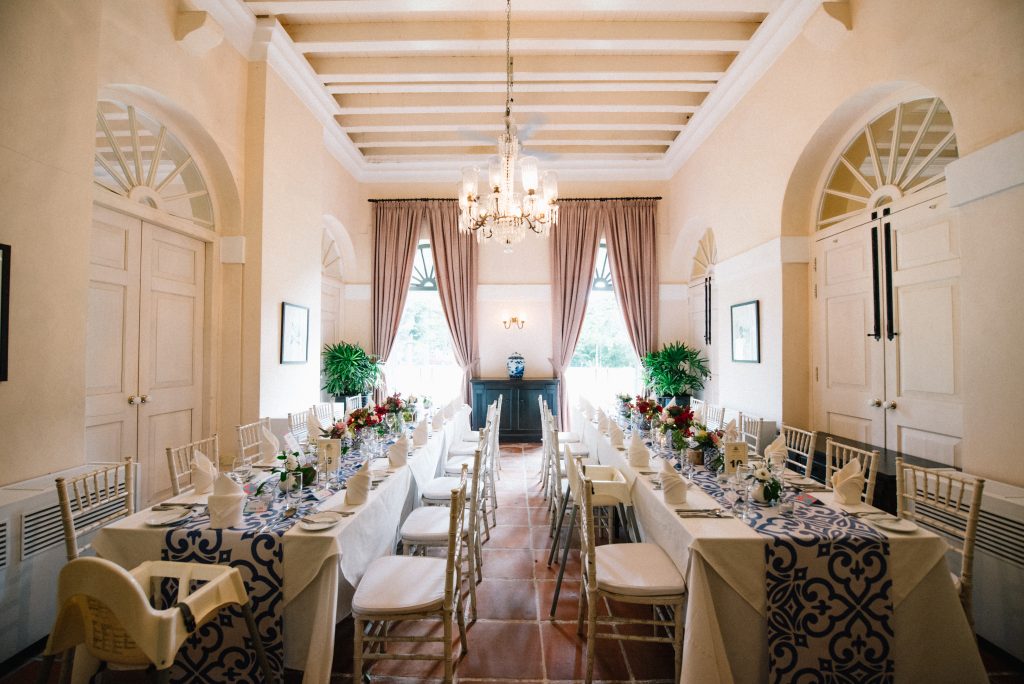 T'ng tok banquet. Credit: Pixel Tree Studio
Following the tuang teh ceremony, a wedding banquet is usually served in the evening. The banquet is known as t'ng tok (long table), where the feast is served by sets and laid out in long rectangular tables. Historically, t'ng tok is a prewedding banquet, but in modern times, it can be personalised as a wedding banquet in keeping with the Peranakan heritage and feel.
T'ng tok is often kicked off by little flower girls dressed in colourful Nyonya kebaya scattering bunga rampai (a potpourri of thinly sliced flowers and pandan leaves) down the aisle in a wedding procession. Men bearing traditional Chinese lanterns and drum troupe precede the arrival of the newlyweds, dressed in traditional Peranakan wedding attire. The couple then takes their seats and joins the rest of the guests for a feast.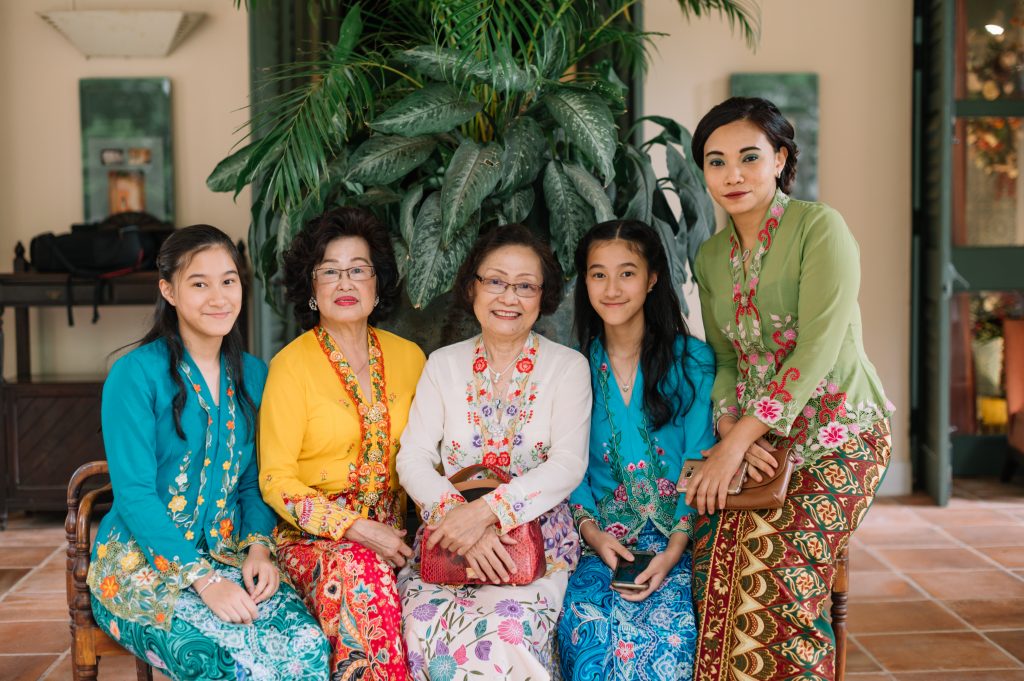 Credit: Pixel Tree Studio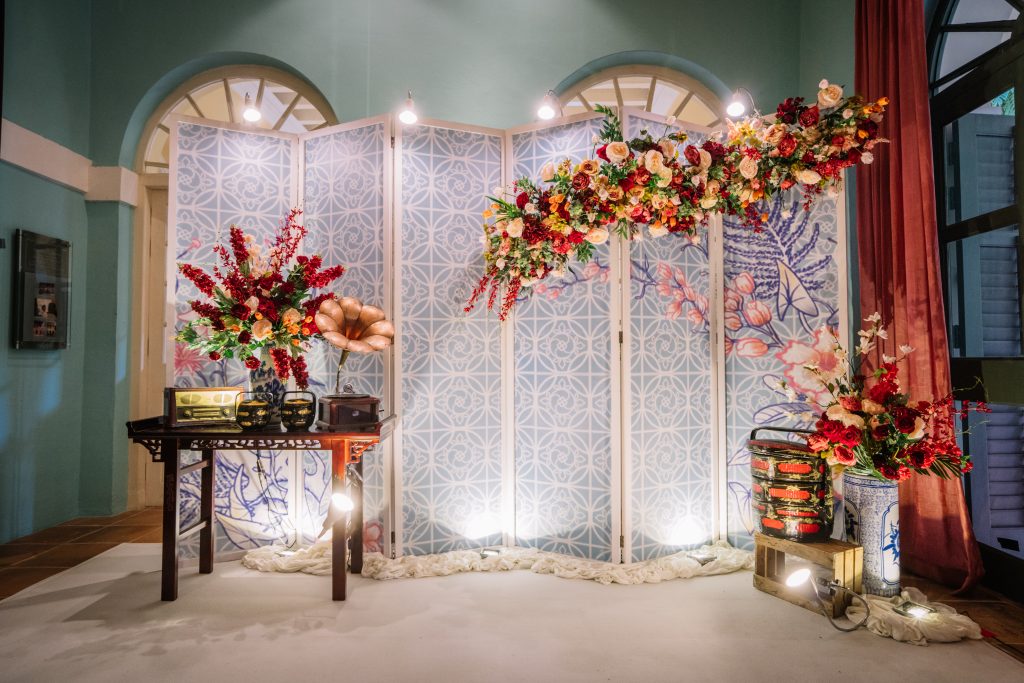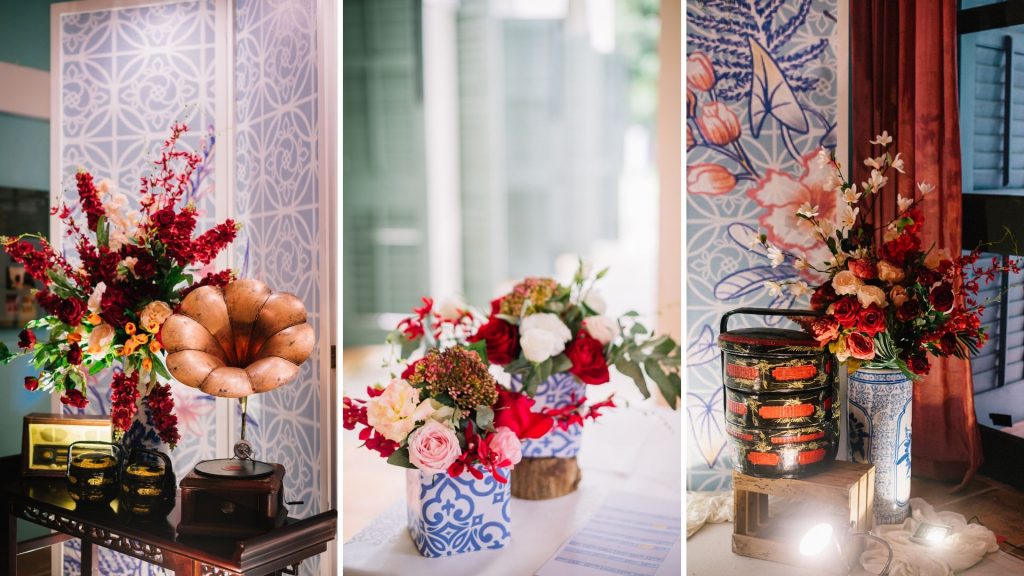 Credit: Pixel Tree Studio
For most people, t'ng tok is a great occasion to flaunt the beauty of Peranakan culture. Ladies are often dressed in beautiful Nyonya kebaya with sarong batik in a room full of Peranakan decorative items like bakul siah, hand fans, batik and porcelain wares. The cultural elements of the Peranakans are so unique and meaningful — most of them are family heirlooms passed down from one generation to the next, connecting couples to their ancestors.
"Try covering the tables with batik sarong and use Peranakan porcelain wares to serve the dishes. Your guests will instantly feel they are in a Peranakan wedding as batik and Peranakan porcelain wares are synonymous with the culture," says Baba Michael Cheah, vice-president of the State Chinese (Penang) Association.
Wedding Attire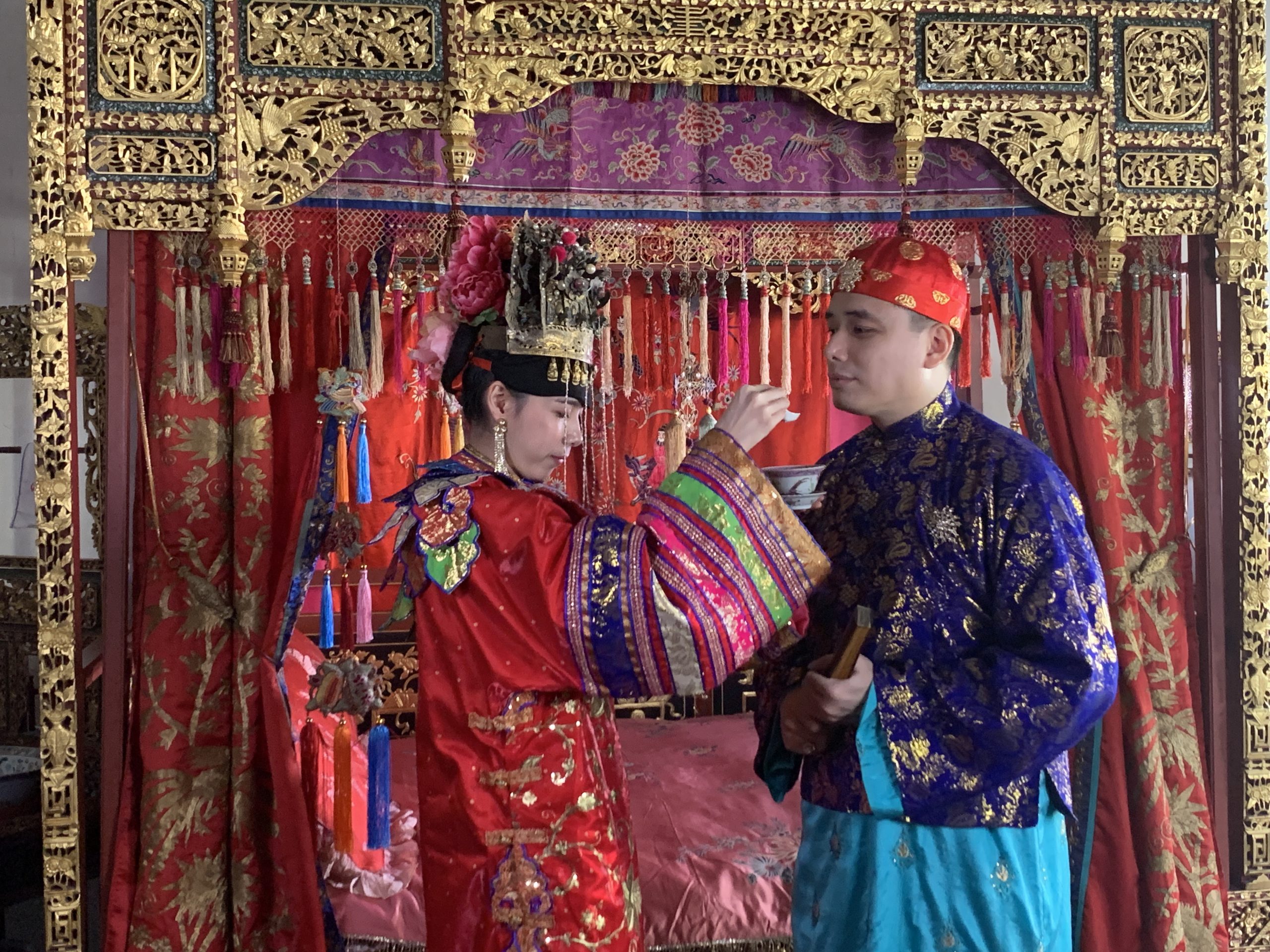 Credit: Pinang Peranakan Mansion 
A traditional Peranakan bridal attire features vibrant hues and intricate embellishments, replete with a majestic headgear and chandelier necklace. The bridal gown, known as Kuah or baju panjang, is a two-piece costume embellished with intricate embroidery featuring peonies, cranes, mandarin ducks, and phoenixes motifs. Her hair is dressed in as many as 144 hairpins and jewellery.
A typical Peranakan groom is dressed in baju lokchuan, a short jacket of Manchu style worn over a longer gown. It is intricately embroidered in auspicious motifs such as peonies, cranes, mandarin ducks and phoenixes. A Mandarin cap of brocade with a velvet rim completes his ensemble.
Food & Entertainment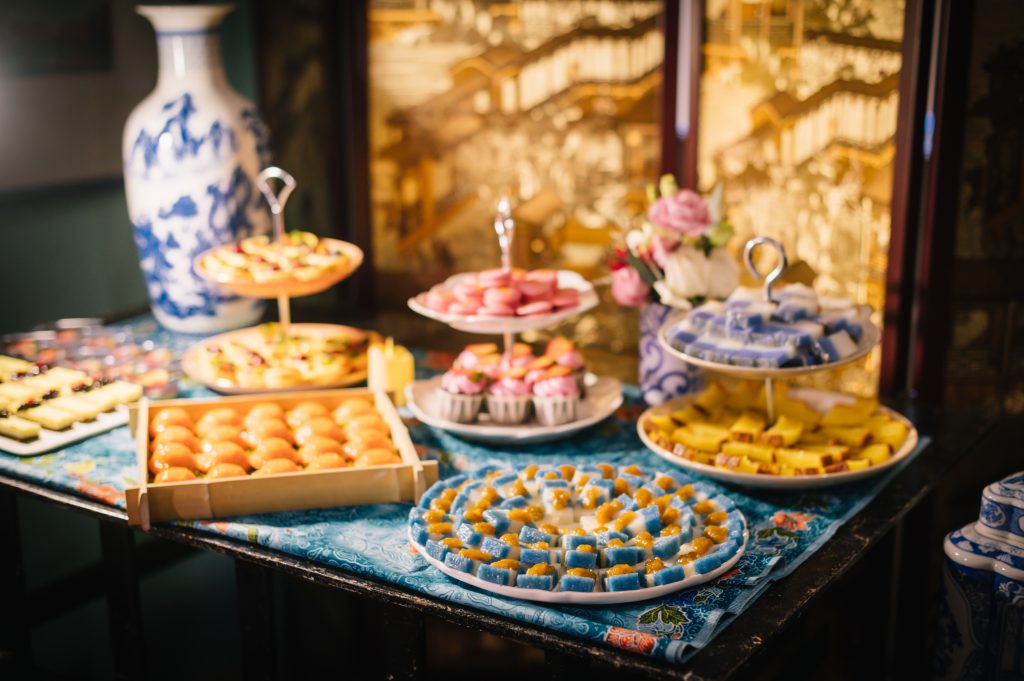 Credit: Pixel Tree Studio
A Peranakan wedding banquet is extravagant and full of food, drinks, songs, and dancing. Food served would include famous Nyonya food like too thor th'ng (pig tripe soup), joo hoo char (vegetables with dried squid whiskers), Nyonya curry chicken, acar (pickles) and other classic Nyonya favourites namely the iconic gulai buah keluak, which is the seed of an Indian almond or ketapang tree. All these dishes require many hours of preparation.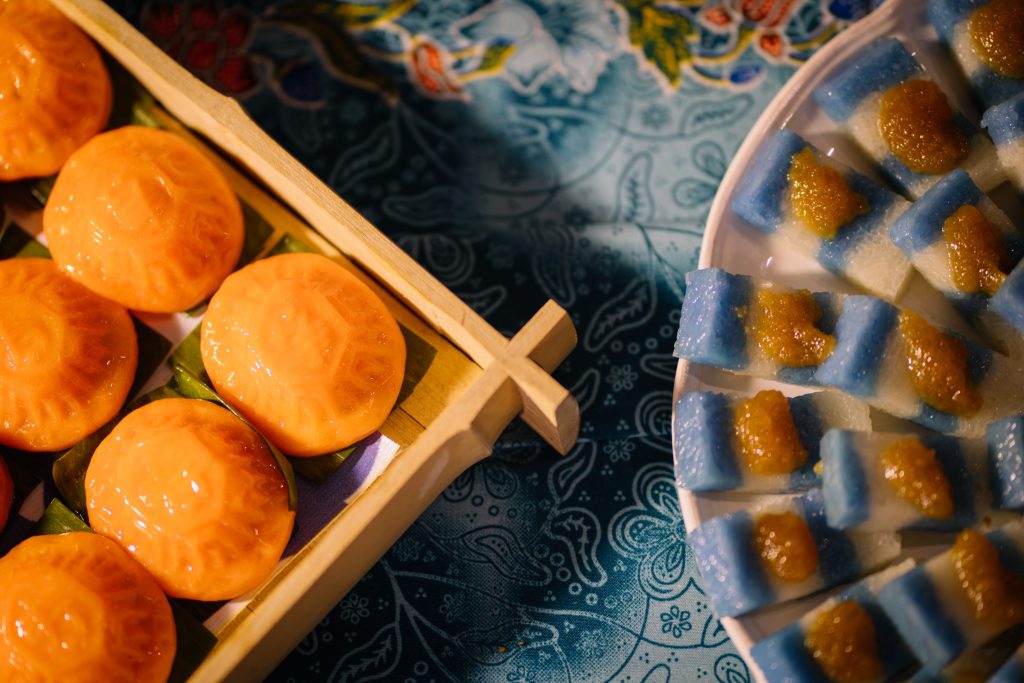 Credit: Pixel Tree Studio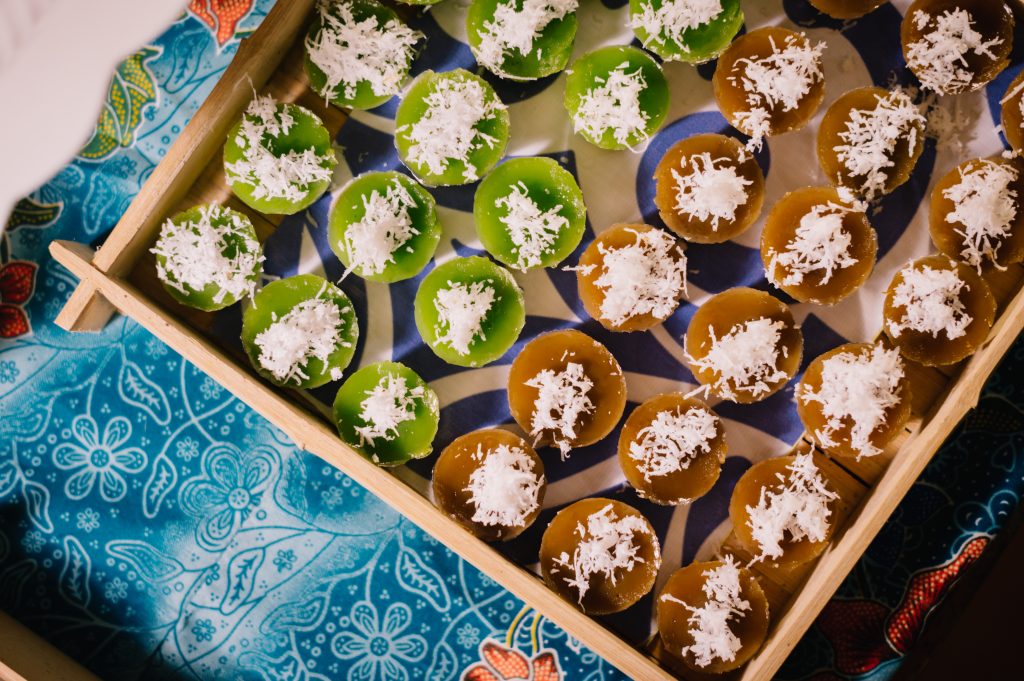 Credit: Pixel Tree Studio
The Peranakan is also widely known for their chochi mulot (desserts). "We believe each meal must end with something sweet. So make sure to treat your guests to our delicious kuihs. They are sweet, tasty, and come in various shapes and colours," says Cheah.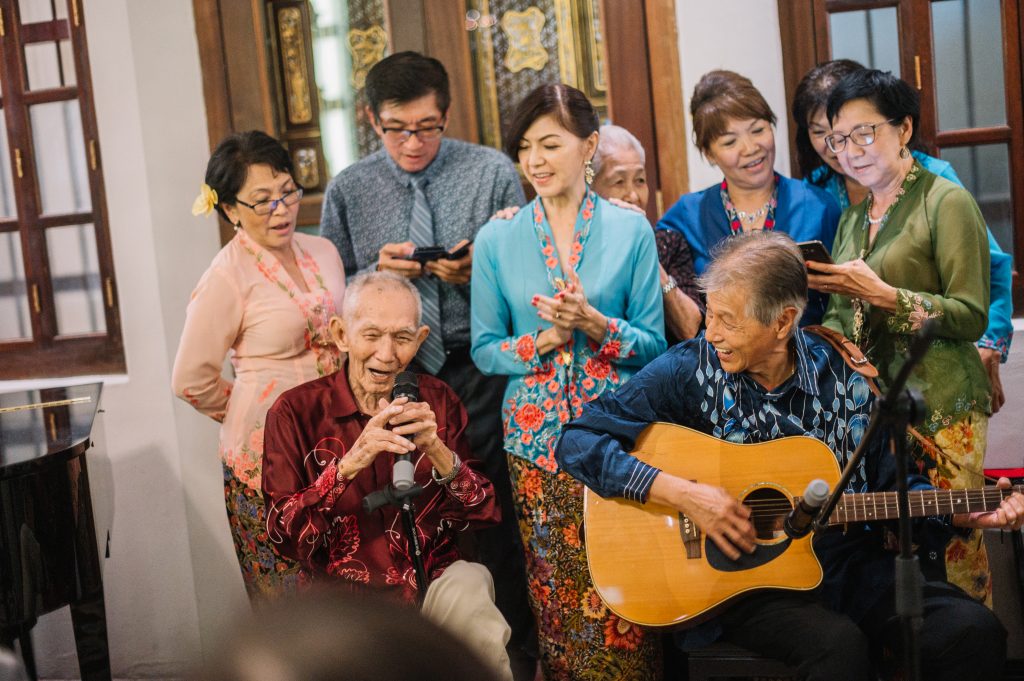 Credit: Pixel Tree Studio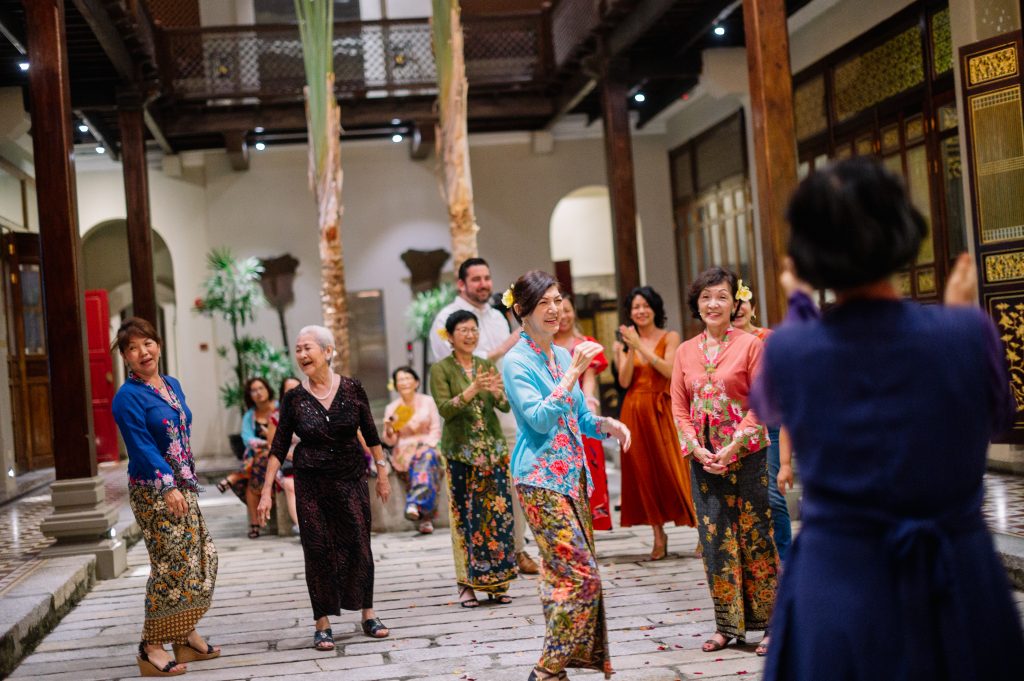 Credit: Pixel Tree Studio
Thanks to an eclectic mix of Chinese and Malay culture, Peranakan weddings feature some interesting form of wedding entertainment. A traditional Malay art known as dondang sayang is a common form of entertainment in the Peranakan wedding. It combines elements of music (violins, gongs, and tambourines or the tambour), songs and chants, and features beautiful melodious strains of pantun (poetry).  Traditional Malay dance and music like joget and keroncong is a must-have entertainment at Peranakan weddings. With so much singing and dancing, it is not unusual for the banquet to reach well into the night.
Wedding Favours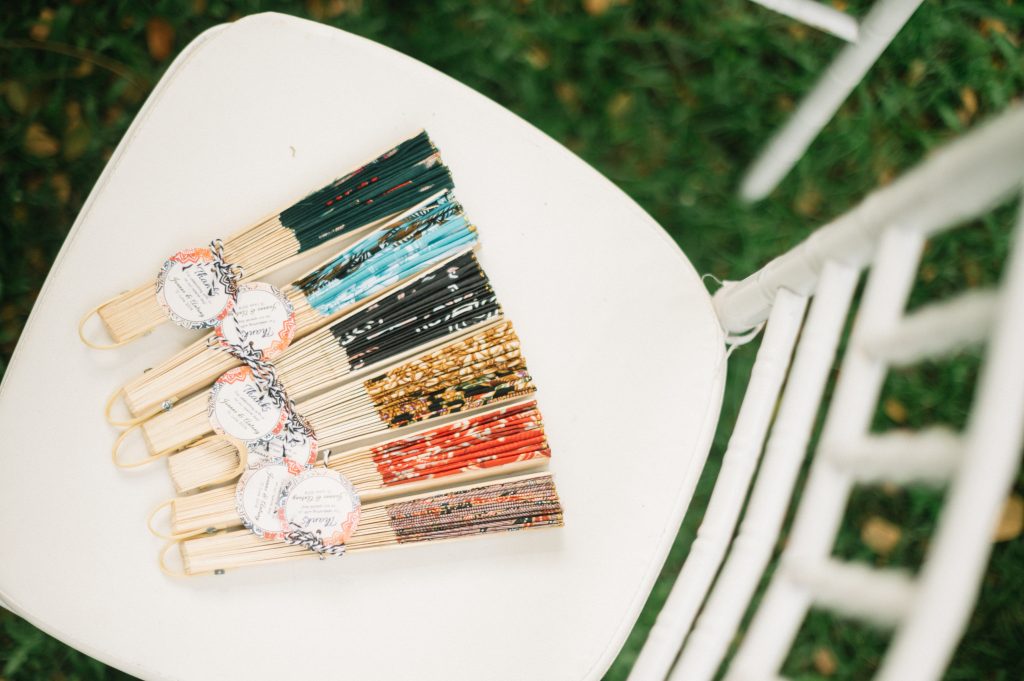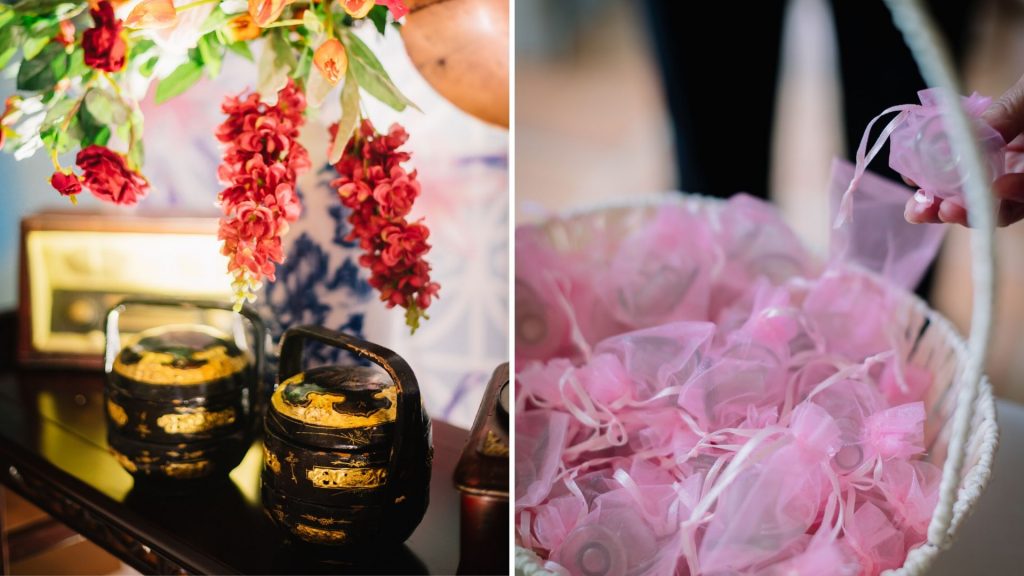 Credit: Pixel Tree Studio
End your reception on a high note by presenting sachets of bunga rampai as tokens of appreciation to your guests for their kind presence. "Edible wedding favors like personalised cookies with intricate Peranakan tile motifs, take-home Peranakan kuih like ang ku or pulut tai tai are always a delicious choice your guests can enjoy right away!
"If you are more interested in giving your guests something meaningful that'll remind them of the experience they had at your wedding, then miniature bakul siah, batik hand fans and Nyonya kebaya-shaped fridge magnets are definitely some of the best choices," says Cheah.
Suggested Wedding Itinerary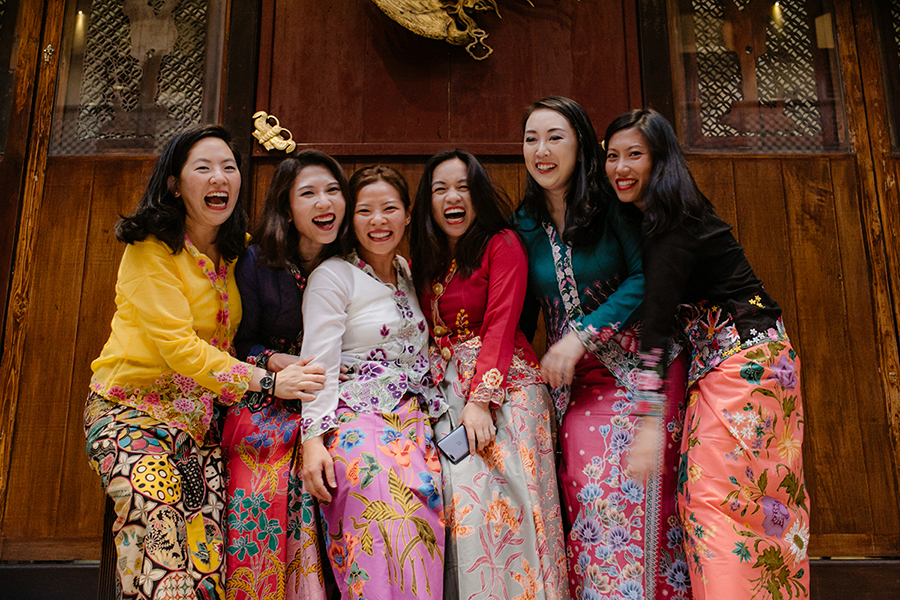 Credit: Amelia Soo Photography
Most destination weddings are multi-day events, lasting three to eight days. To help you plan your travels better, here's a suggested itinerary for your big day in Penang.
Note: Remember, each wedding itinerary is unique. If you have not done your dress fitting or your pre-wedding photography session, do consider to plan for more days. It is also best to hire a wedding planner for a stress-free wedding in Penang.
Day 1: Welcome to Penang! Take a good rest after checking in to the hotel.
Day 2:
Meet with your wedding planner to go through the final details, such as the schedule of the wedding days, guest seating list, and other essential details.
Inspect the wedding venue and meet with the person-in-charge of the venue.
Day 3 and 4:
Meet up with photographer and cinematographer.
Marching rehearsal can be conducted during these days, provided if the bridal party has arrived in Penang.
Have a trial make up session on your wedding eve! You'll look gorgeous for the prewedding traditions at night such as lap chai (gift exchange ceremony) and khui tiah (bridal shower).
Day 5: This is the day of your wedding, which entails the following programmes:
Cheo thau (hair combing ceremony)
Veiling the bride
Groom's arrival
Groom unveil the bride
Chim pang ceremony
Tuang teh (tea ceremony)
T'ng tok (wedding banquet)
Day 6: ​This is a day for fun and relaxation. Give guests a list of fun activities in the area.
Day 7:​ How about visiting Penang's many attractions, places further away from the hotel?
Day 8:​ Time to say your farewells.
Related links