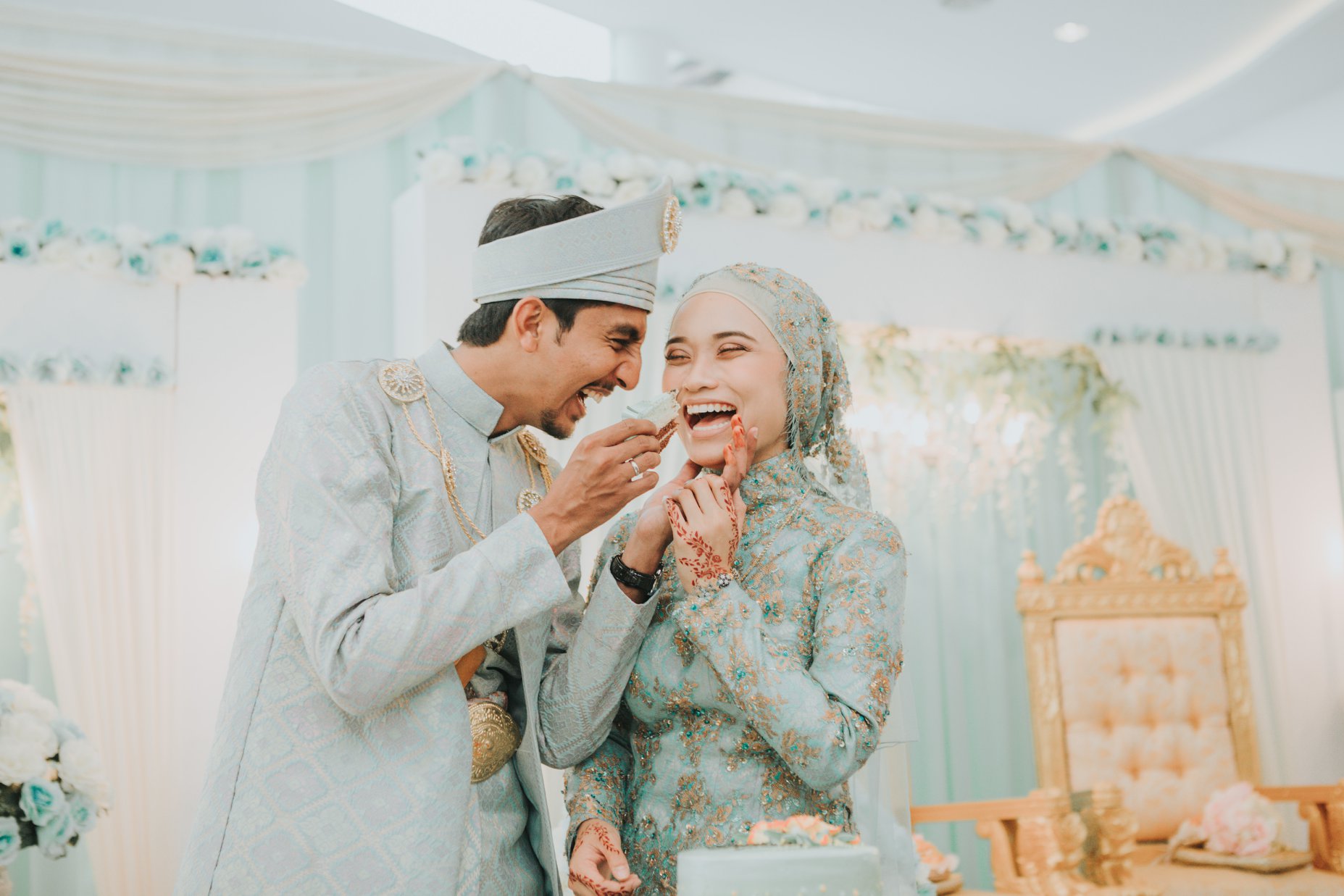 Credit: Momento Wedding
If you want to experience a local traditional wedding fit for a king (or queen!), a Malay-themed wedding is the perfect choice. In a typical Malay wedding, newlyweds are accorded the term raja sehari (king for a day) and are treated just like royalties — even before they say 'I do'! Here are what to expect of a Malay-themed wedding, from prewedding customs to wedding favours!
Prewedding Customs
Malay prewedding customs are filled with meaningful rituals. Many believe the time-honoured traditions of mandi bunga (floral bath) and malam berinai (henna night) beautify and cleanse the couple, preparing them for a beautiful journey between two souls.
Mandi bunga  is a traditional Malay wellness ritual to rid the body of negative energies. Couples are bathed in a tub filled with flowers, a symbolic act of purification or cleansing a day or a few days before the wedding ceremony. The ritual is said to have originated in royal palaces where it formed part of the formal procedures in the coronation of new kings! Today, many Malay couples combine the ritual with other traditional urut (massages) to calm wedding jitters. For the ultimate bridal glow, book a Malay wellness treatment session which includes mandi bunga on your wedding eve, before the commencement of the next prewedding custom — malam berinai.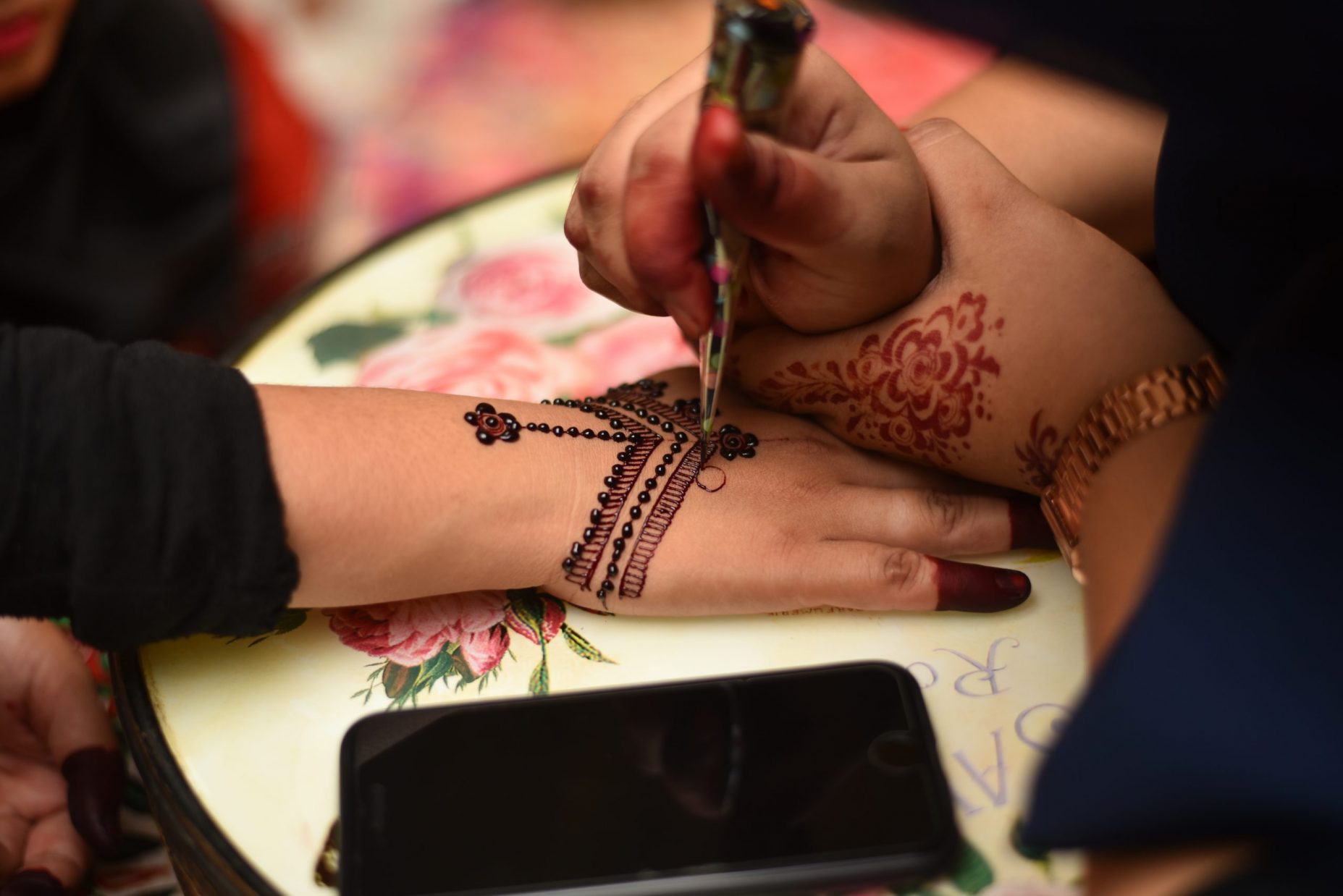 Credit: Nesh Studios
Malam berinai is a tradition meant to bond families together and it signifies the start of an upcoming wedding. Traditionally, family members and close friends spend three consecutive nights painting intricate patterns on the hands of the bride with inai. These days, however, the tradition is shortened to one night before the wedding.
Parents, siblings, and family members take turns to stain the tips of the bride and groom's fingers with inai. Then, a professional henna artist takes over the task of decorating the hands of the bride. The designs range from simple to intricate patterns, depending on the bride's preference.
The occasion can also double as a bachelorette party. Many Malay brides throw fun themed parties, bonding with their closest friends while getting their hands decorated.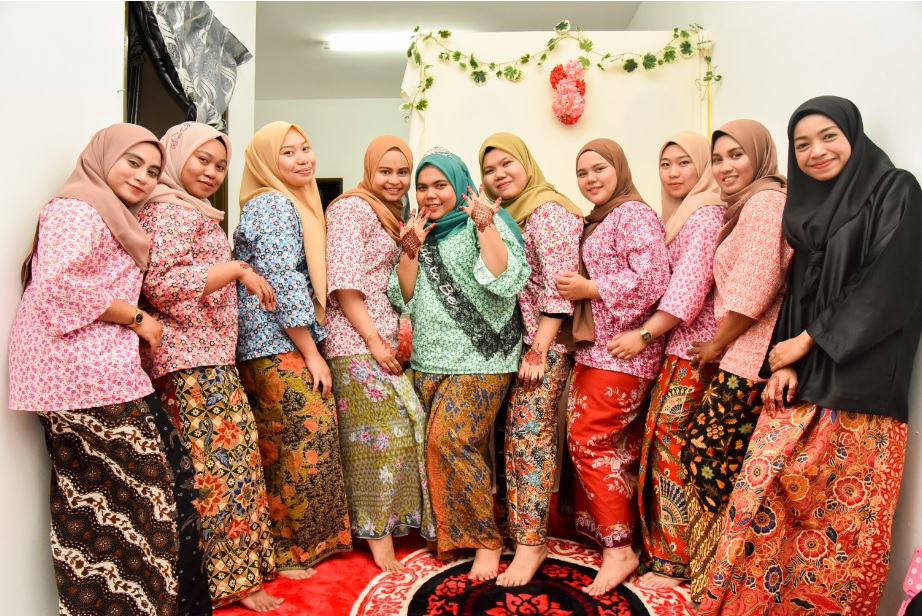 Credit: Nesh Studios
Wedding Day
More often than not, Malay weddings are a joyous occasion celebrated over two days — one day for akad nikah (solemnisation ceremony) and another day for majlis bersanding (wedding ceremony). However, these ceremonies are usually combined into a single day for destination weddings.
Akad nikah is a religious solemnisation ceremony, which includes vows being read and a kadi (Muslim marriage official) or imam (Muslim priest) declaring everything is legal in the eyes of God. It is considered a private function usually attended by parents and relatives only.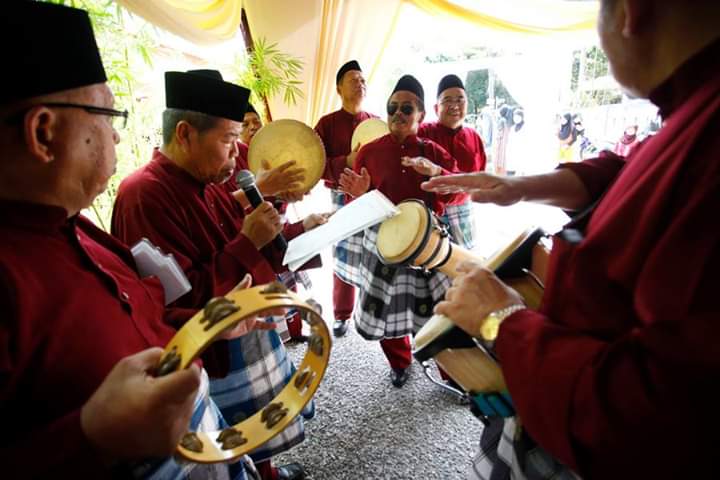 A kompang troupe wearing traditional baju melayu. Credit: Detik Indah Photography
After akad nikah is performed and the couple is officially pronounced husband and wife, majlis bersanding begins! Staying true to the phrase raja sehari, Malay couples are honoured and celebrated with ceremonies fit for the royals. Majlis bersanding is kicked off with the newlyweds' arrival. Flanked by bunga manggar (palm blossoms), the newlyweds are received by beating drums of kompang and ushered to their wedding dais. Often, the wedding dais resembles royal thrones.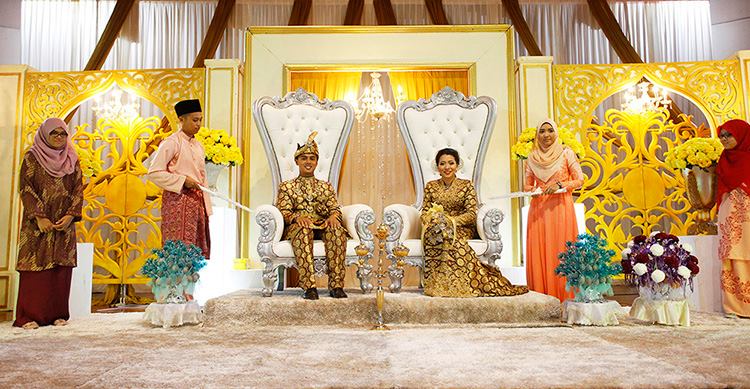 The newlyweds sitting on their wedding dais. Credit: Detik Indah Photography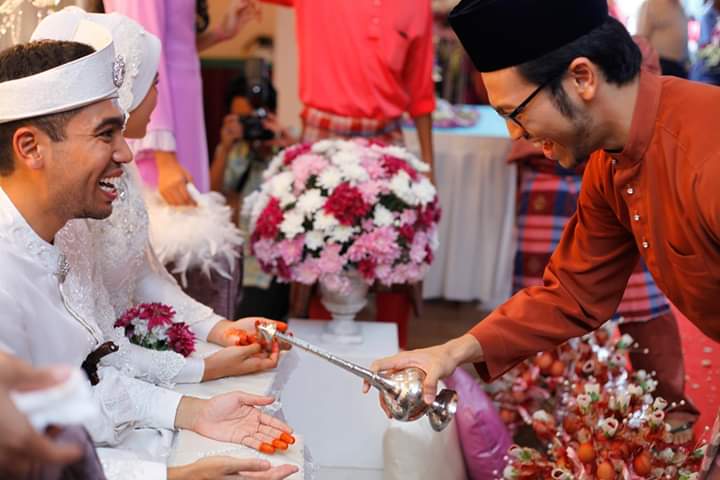 Upacara merenjis. Credit: Detik Indah Photography
The majlis bersanding continues with upacara merenjis, a customary practice where the couples receive blessings from the elders. Rose water and bunga rampai (a potpourri of thinly sliced flowers and pandan leaves) are sprinkled on the couples' palms. The ceremony is initiated by older family members as a mark of respect.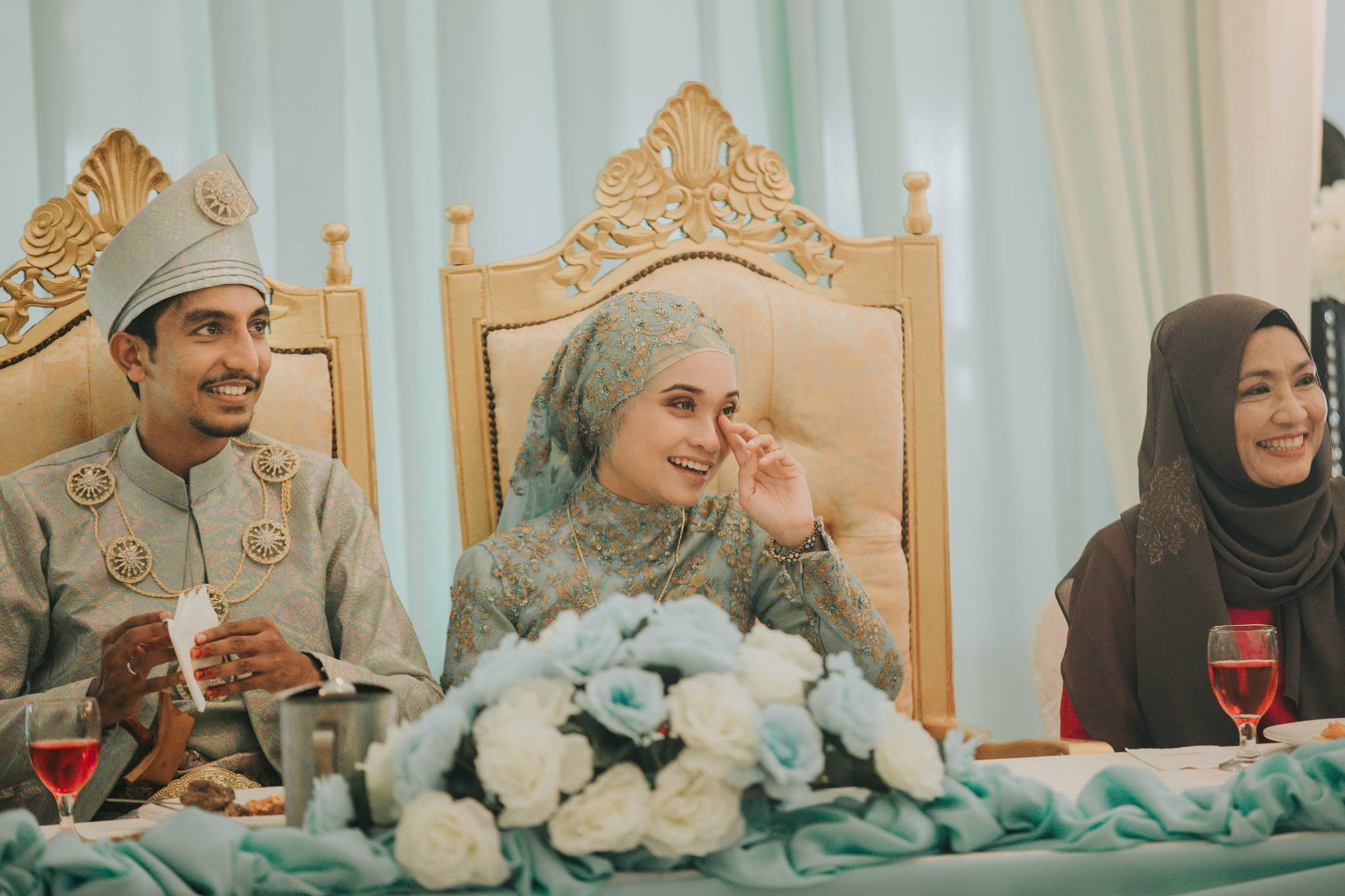 Newlyweds sitting at the meja beradab. Credit: Momento Wedding
After upacara merenjis, the newlyweds take their seats at the main table to join their guests for a wedding feast. The main table or meja beradab, are often lavishly decorated to set the raja sehari apart from the guests. The dishes on meja beradab also differ from the guests for the same reason — they are the royalty and should be bestowed a feast fit for a king!
Wedding Attires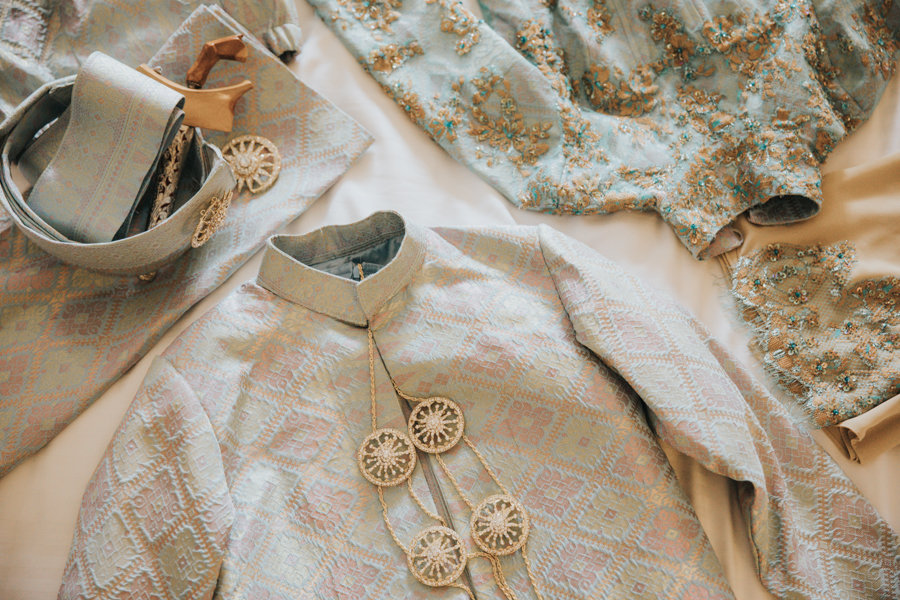 Traditional Malay wedding costumes. Credit: Momento Wedding
According to tradition, Malay brides are often dressed in long sleeve wedding gowns with style influenced by traditional Malay costumes (baju kurung or baju kebaya). The wedding dress is primarily made of lace or songket, a luxurious brocade commonly used in Malay wedding attire, which is meticulously embroidered with elaborate beadwork.
The groom's outfit includes a matching baju melayu, a traditional attire normally worn by Malay men. Completing the costume are tanjak (a traditional Malay headgear), sampin (a short sarong), decorative brooches and keris (Malay ceremonial knife).
"Malay men wear baju melayu every day, especially for prayers, but not the tanjak and keris. People often associate tanjak and keris with Malay royals and warriors.
"Since a Malay groom is considered raja sehari, they are allowed to wear the accessories to complete their wedding costumes," says wedding planner Eyna Zainal of Syurga Cinta Abadi Weddings.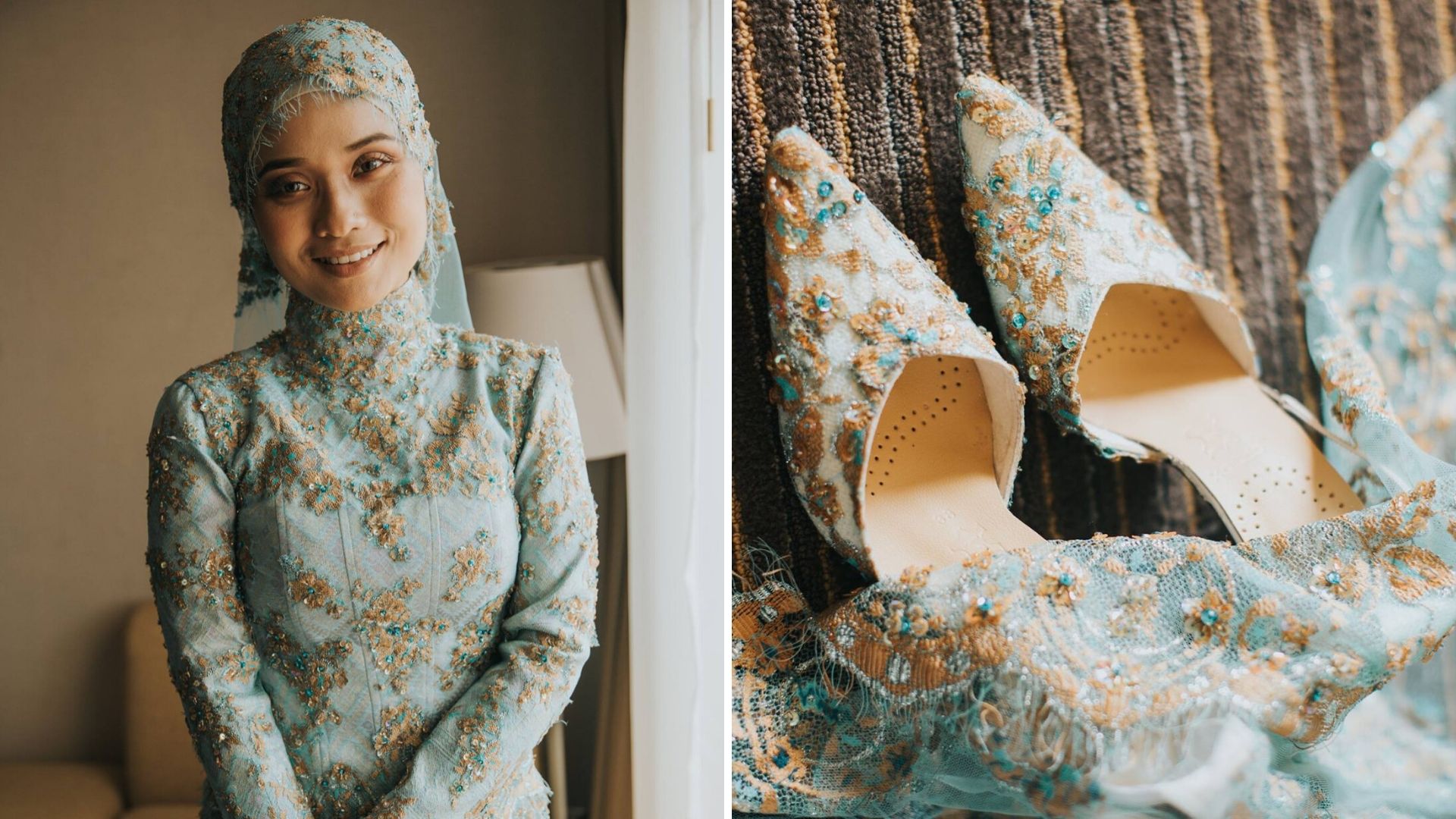 A Malay bride in her wedding attire and her matching bridal shoes. Credit: Momento Wedding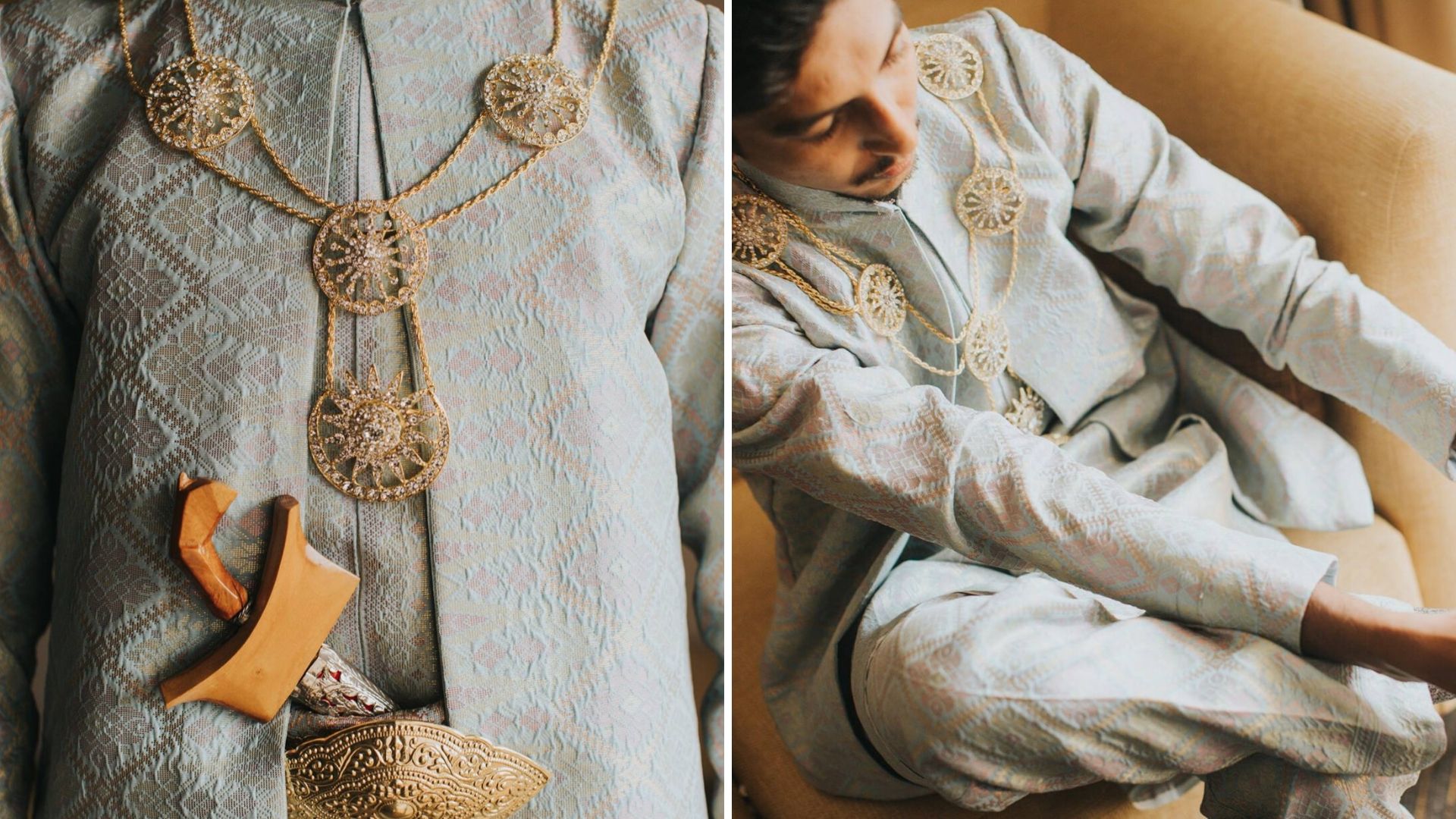 A Malay groom's attire and accessories. Credit: Momento Wedding
Food & Entertainment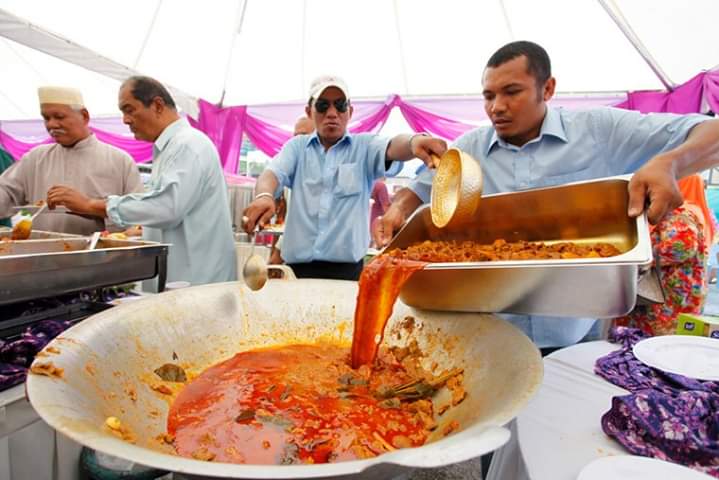 Credit: Detik Indah Photography
You're getting married—and that calls for a celebration! In a Malay-themed wedding, guests are treated to nasi minyak (ghee rice), a traditional Malay rice meal synonymous to Malay weddings. It is usually eaten with various Malay side dishes such as kurma kambing (mutton kurma), ayam masak merah (chicken in red chili sauce), daging masak hitam (beef cooked in spicy dark sauce), gulai daging (beef curry), acar (pickled vegetables) and a good dose of kuah dalca (dhal gravy). Most wedding venues tailor-make menus for Malay-weddings with a choice of set or buffet style.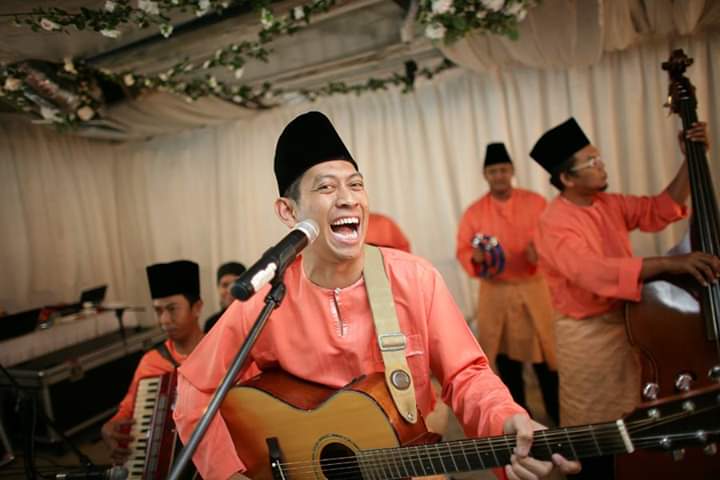 Entertainers in traditional Malay attire. Credit: Detik Indah Photography
According to Amy from Sugar & Spice Events, silat performances, gamelan, or cultural dance performances such as Zapin and Joget are usually performed to entertain the newlyweds and guests. "Sometimes even a show of wayang kulit!" she adds.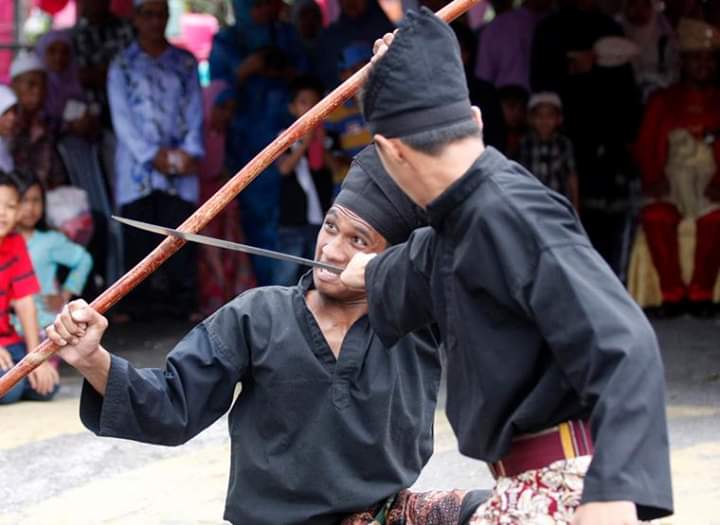 Silat performance. Credit: Detik Indah Photography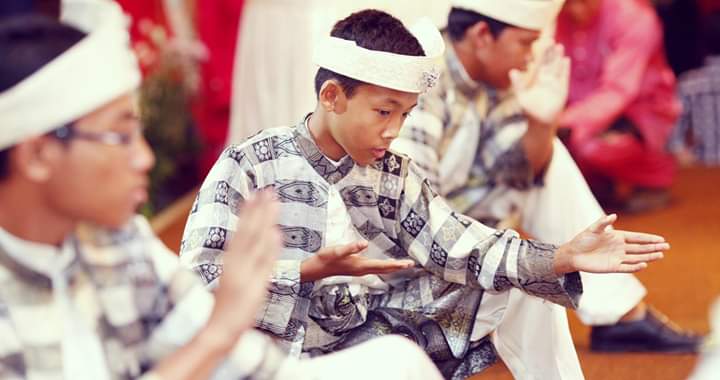 Silat performance. Credit: Detik Indah Photography.
"It's also a great opportunity to get creative and inject your personality as a couple. For example, couples who enjoy sports can incorporate traditional Malay games such as batu seremban (tossing the stones), kite flying, and top spinning to acquaint your guests to the culture.
"At the end of the day, you want to treat your guests to traditional Malay dishes they won't soon forget, and mesmerising cultural entertainment and elements everyone will be talking about!" she says.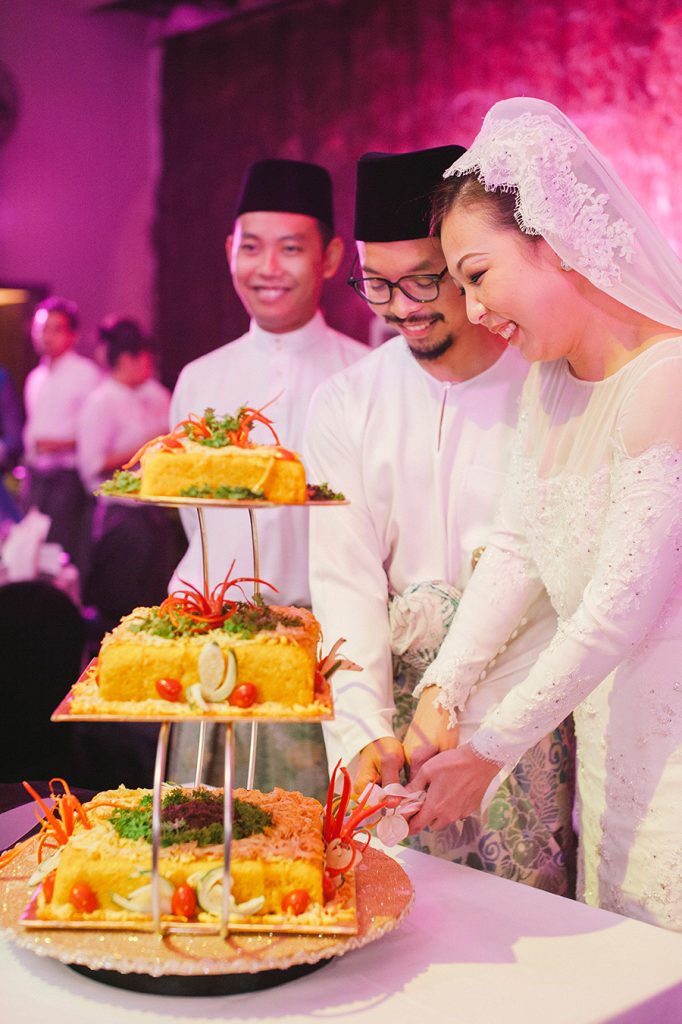 Couple cutting the traditional pulut kuning berhias (yellow turmeric sticky rice). Credit: MunKeat Photography.
It is something that Hazrina Zainul, a PR director agrees, too. "For the cake cutting ceremony, replace the modern wedding cake with the traditional pulut kuning berhias (yellow turmeric sticky rice). In the olden days, Malay community used to celebrate weddings with pulut kuning berhias. It is a traditional blessing rich in symbolism. The yellow symbolises warna diraja (royal colour) while the sticky characteristic is believed to represent the closeness of the bride and groom," says Hazrina, who married Briton Taufiq Anthony in 2011.
Wedding Favors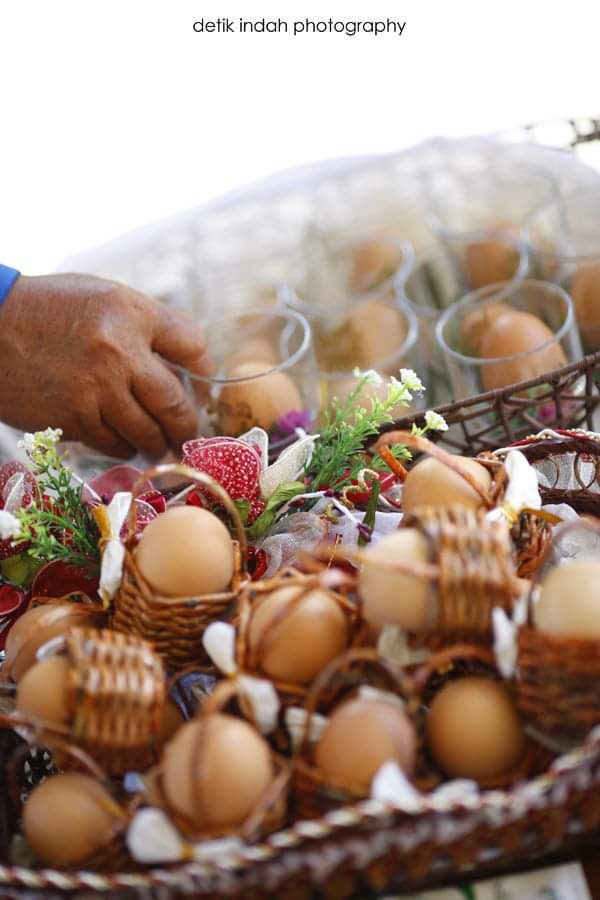 Contemporary bunga telur. Credit: Detik Indah Photography.
Wedding favors are a nice way to thank your guests for joining you for the celebration — your family and friends had travelled quite a distance to make your big day even more special. In a traditional Malay wedding, bunga telur (egg flower) is given to guests as a wedding favor. Bunga telur is essentially a boiled egg attached to a stalk of paper or tulle 'flower', decorated with ribbons and beads.
"But you don't have to restrict your Malay-themed wedding to bunga telur. When it comes to cultural weddings, wedding favor options are limitless. Take inspiration from Malay culture and give your guests a miniature tanjak or keris, instead," says Amy.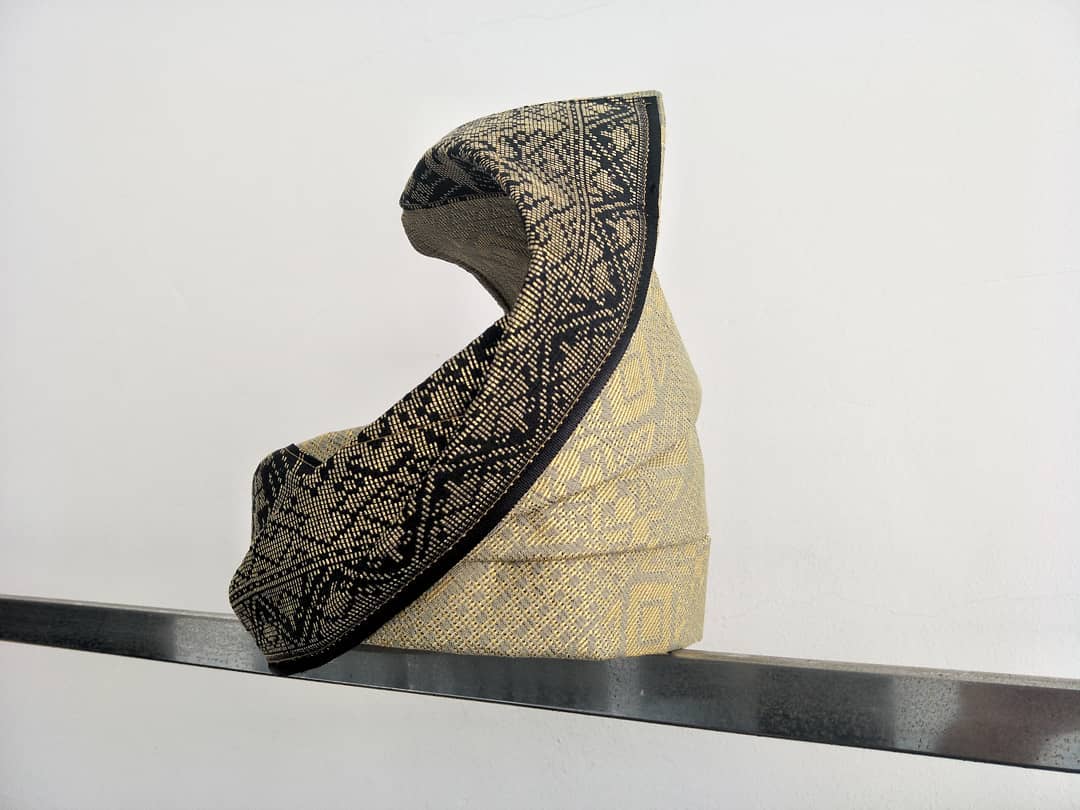 Miniature tanjak makes a great wedding favour. Credit: @tanjaknafizrahim (instagram)
Suggested Wedding Itinerary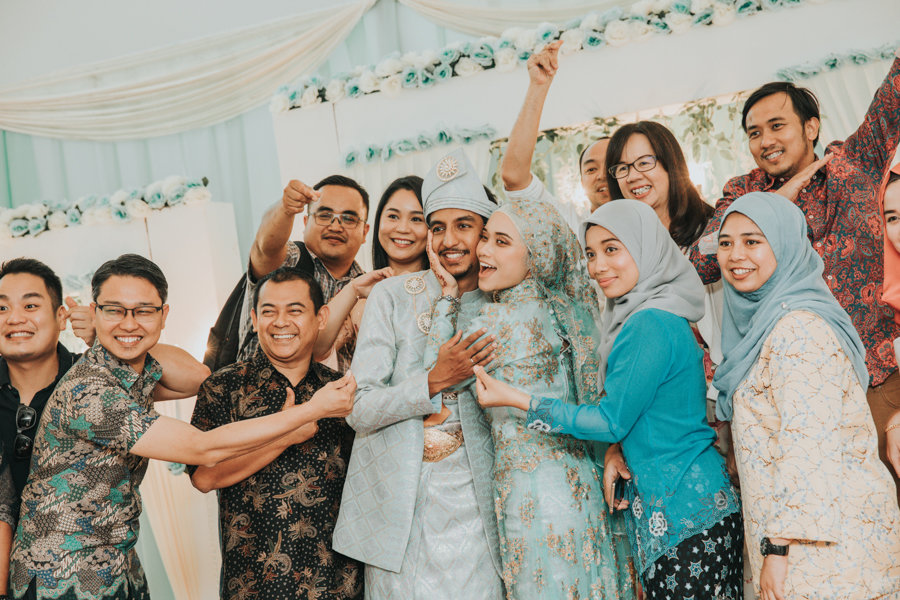 Credit: Momento Wedding
Most destination weddings are multi-day events, lasting three to eight days. To help you plan your travels better, we speak to wedding planner Jess Loh from Touching Hearts Wedding Concepts to come up with a suggested itinerary for your big day in Penang.
Note: Remember, the itinerary for every destination wedding is not the same. If you have not done your dress fitting or your pre-wedding photography session, do consider to plan for more days. It is also best to hire a wedding planner for a stress-free wedding in Penang.
Day 1: Welcome to Penang! Settle down and relax your mind after checking in to the hotel. Walk around the hotel to familiarise yourself with the venue.
Day 2:
Meet with your wedding planner to go through the final details, such as the schedule of the wedding days, guest seating list, and other essential details.
Inspect the wedding venue and meet with the person-in-charge of the venue.
Day 3 and day 4:
Meet up with photographer and cinematographer.
Marching rehearsal can be conducted during these days, provided if the bridal party has arrived in Penang.
Enjoy a relaxing mandi bunga.
Have a trial make up session to ensure a flawless bridal makeover on the big day.
Enjoy a splendid malam berinai.
Day 5: Akad Nikah and Majlis Bersanding
Day 6: This is a day for fun and relaxation. Give guests a list of fun activities in the area.
Day 7: How about visiting Penang's many attractions, places further away from the hotel?
Day 8: Time to say your farewells.
Related links: