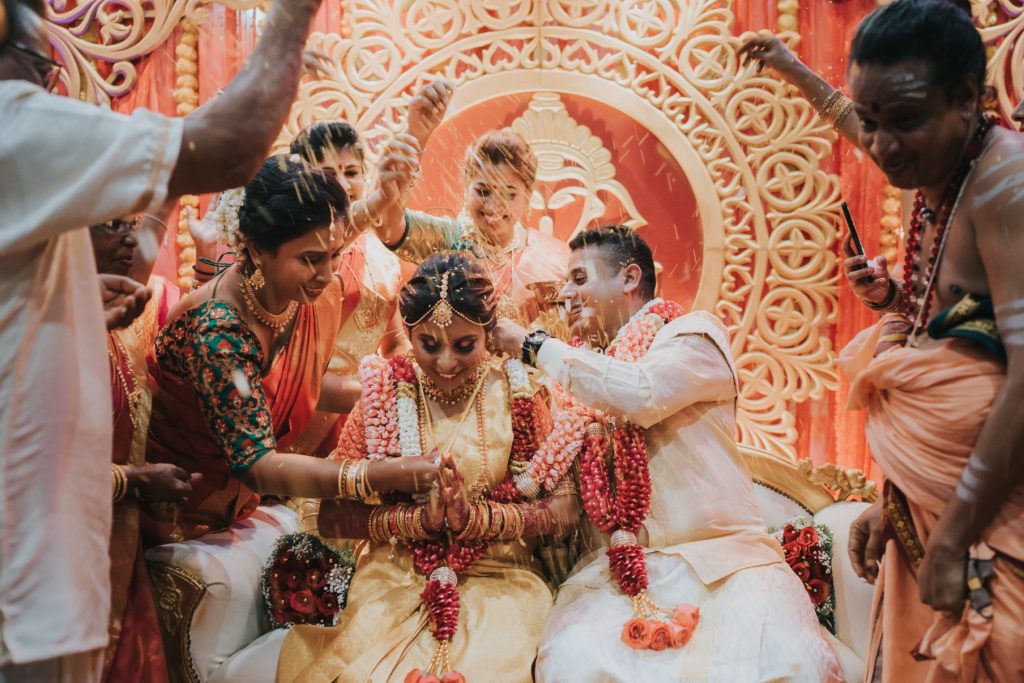 Credit: Momento Wedding
Are you picturing a grand, all-round sensorial celebration for your wedding? From symbolic rituals to high-decibel song and dance, Pinterest-perfect decor, and tantalising sweet bites, an Indian wedding is bound to tick all the boxes on your big-day wishlist! We've put together a quick guide to help you navigate how an Indian wedding in Penang is celebrated.
Prewedding Customs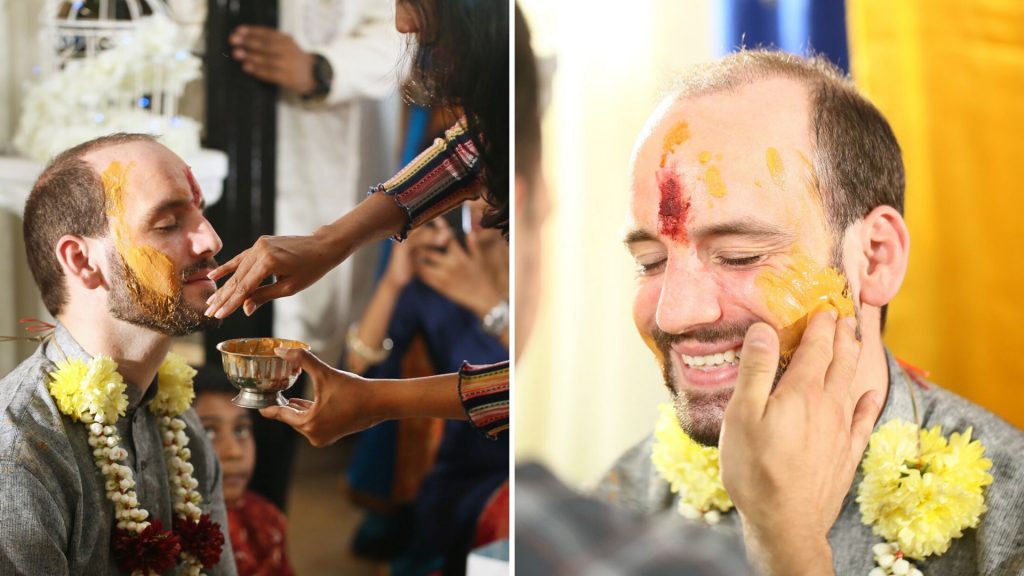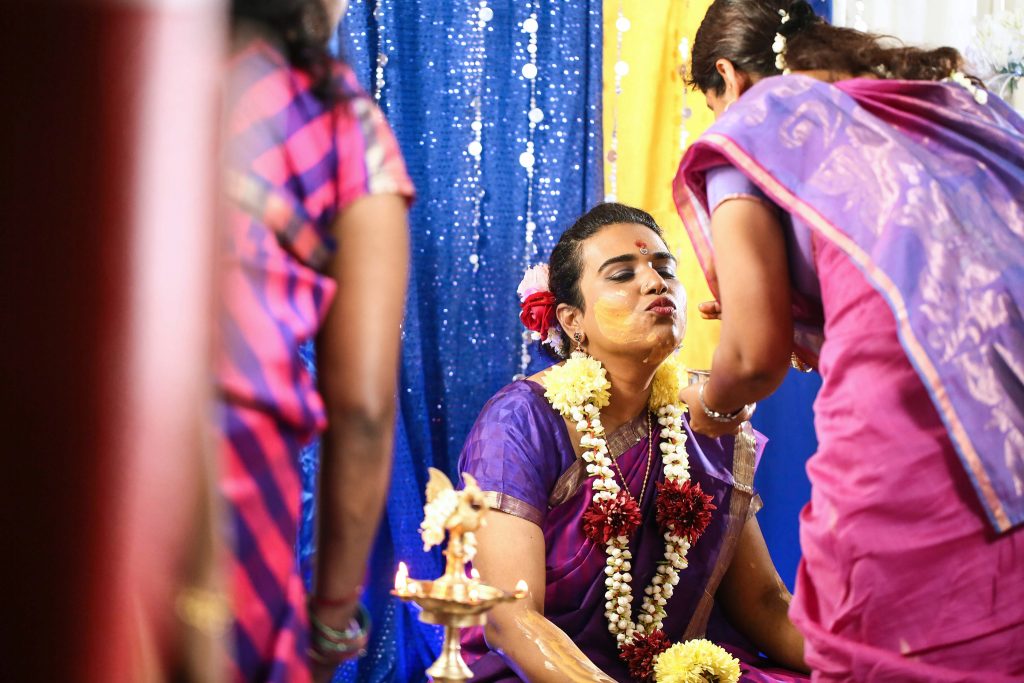 Nalangu ceremony. Credit: BestianKelly Photography
First, there is the nalangu, a pre-wedding blessing and purifying ceremony before the actual wedding celebration. It is where relatives and close friends of the soon-to-be-wed couple apply haldi (turmeric paste) onto the face and limbs of the couple as a symbol of how much they are loved. It is also a ritual that represents purity, prosperity and good health, conducted to bless and cleanse the couple before they take their purifying bath and get ready for the wedding. It marks a good start and removes obstacles on the wedding day.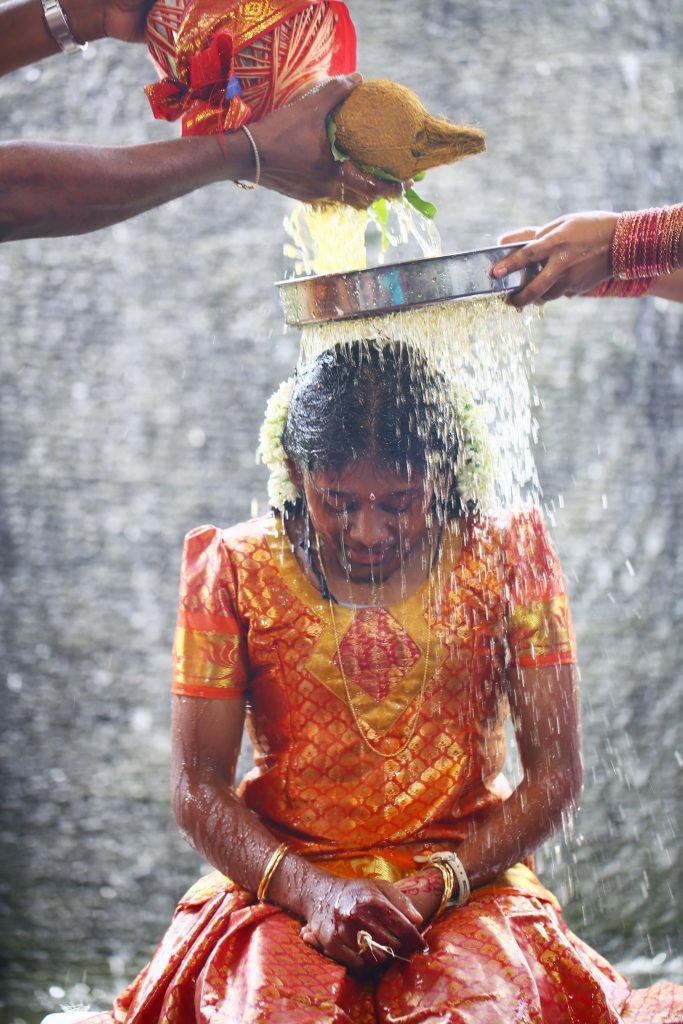 Purifying bath. Credit: BestianKelly Photography
Modern Indian couples are also choosing to incorporate other prewedding customs of Indian origin such as mehendi ceremony. The mehendi ceremony celebrates the relationship between the bride and her closest female friends and families. It involves applying mehendi or henna art on the bride's hands and feet. Traditionally, the bride is adorned with mehendi paste made from dried powdered henna leaves, which are mixed with lemon juice and soaked overnight for maximum infusion. Nowadays, a professional henna artist is hired to apply the henna using a ready-made henna cone stick. A bridal mehendi usually includes patterns with positive meaning, such as peacocks. In Hindu mythology, a peacock symbolises nobility and holiness.
Wedding Day
Indian weddings begin with thirumanam ceremony. First, the bride's family members greet the groom along with his entourage. After the groom's arrival, the toe ring-wearing ceremony commences. The groom's best man, which is usually the bride's brother, plays an important role of welcoming the groom into his family. During the toe ring-wearing ceremony, the best man washes the groom's feet with water, chandan (sandalwood) and kumkum (vermillion, made from a combination of turmeric powder and slaked lime), as a demonstration of love and respect, before placing a toe ring on the groom's toe. The groom thanked his best man with a gold ring.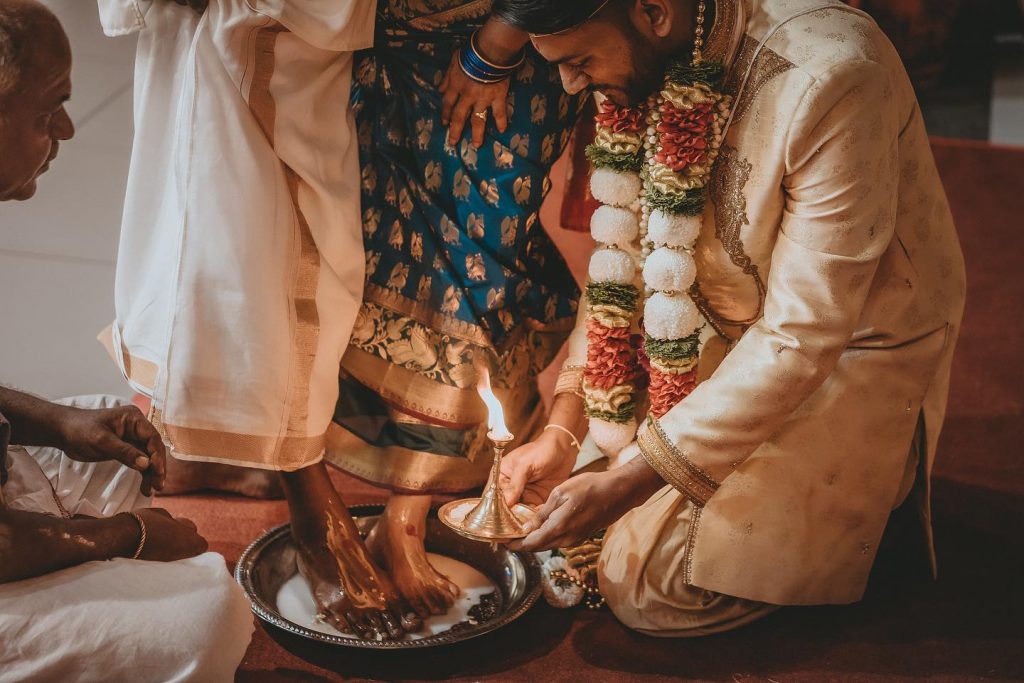 An Indian groom washing the feet of both his parents during patham pooja. Credit: AndrewKoe Studio
The ceremony continues with the patham pooja ritual, where the bride and groom wash the feet of their respective parents with milk, rose water and kumkum for their blessings. "Indians bathe the God in the temple with the same ingredients during prayers, so essentially,  patham pooja is washing the feet of our God, which in this case, our parents," says Sujata Velappa, an engineer who tied the knot in a traditional Indian wedding in 2003.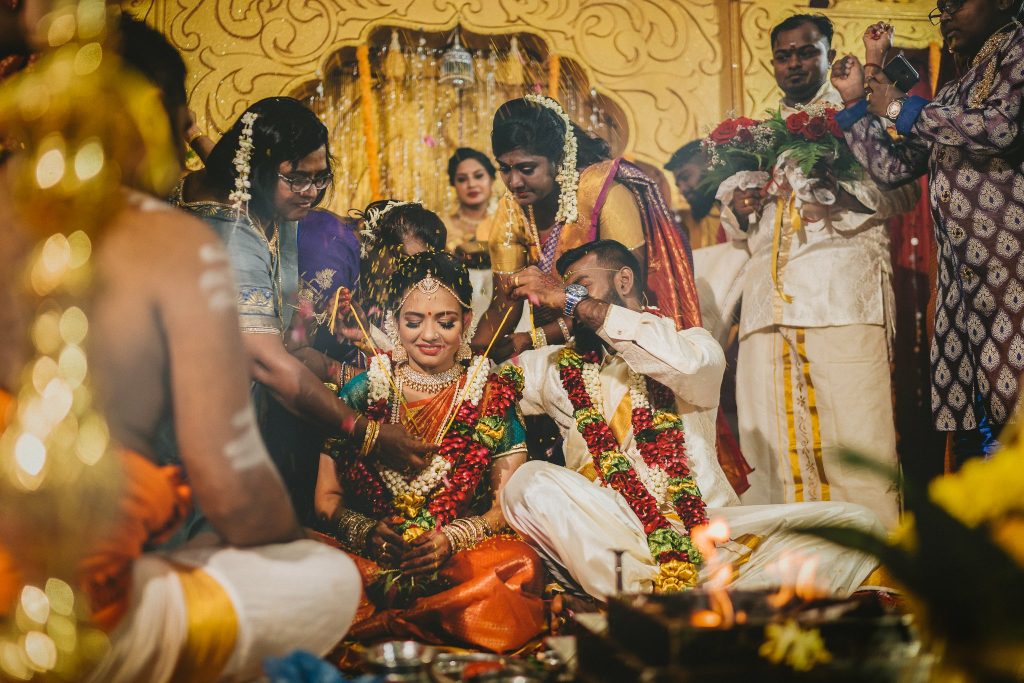 Thaali tying ritual. Credit: AndrewKoe Studio
The wedding ceremony continues with one of the most sacred customs of a Hindu wedding — the thaali tying ritual. It entails the groom tying a thaali around the bride's neck while the priest chants mantras. A thaali is a piece of jewelry of great ceremonial significance — the holy thread symbolises the real meaning of a Hindu marriage.
The newlyweds exchanging flower garlands in a symbolic ritual known as Maalai Maatral. Credit: AndrewKoe Studio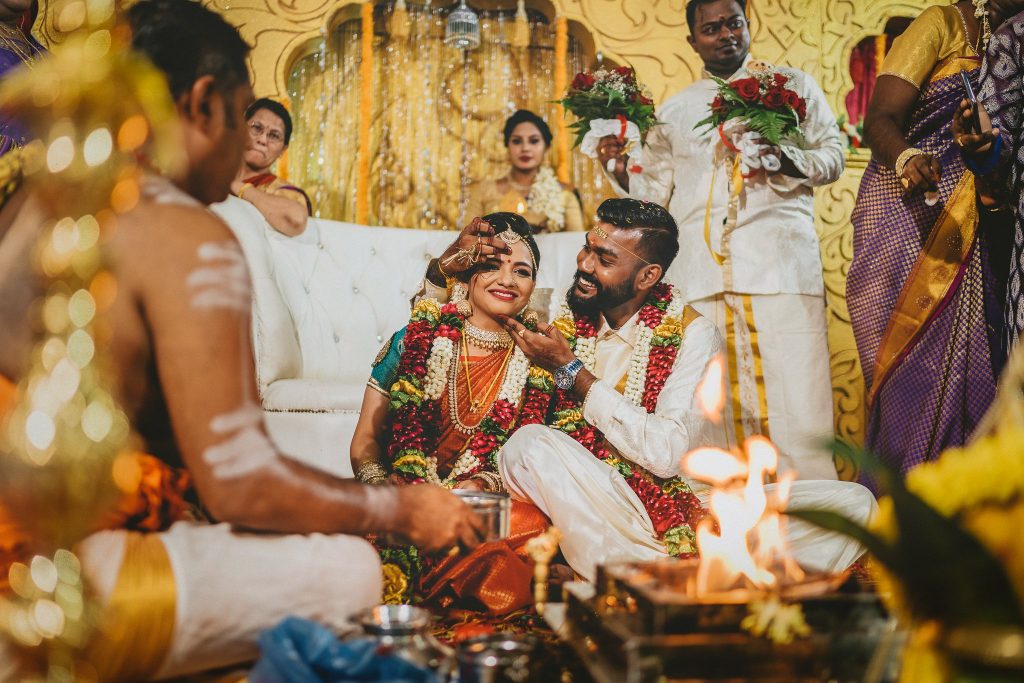 A groom putting a red dot on his bride's forehead. Credit: AndrewKoe Studio
Then, maalai maatral commences, a ritual where the couple exchanges flower garlands with each other three times as a symbol of union. Afterwards, the groom places a red dot on the bride's forehead to officially announce her marital status.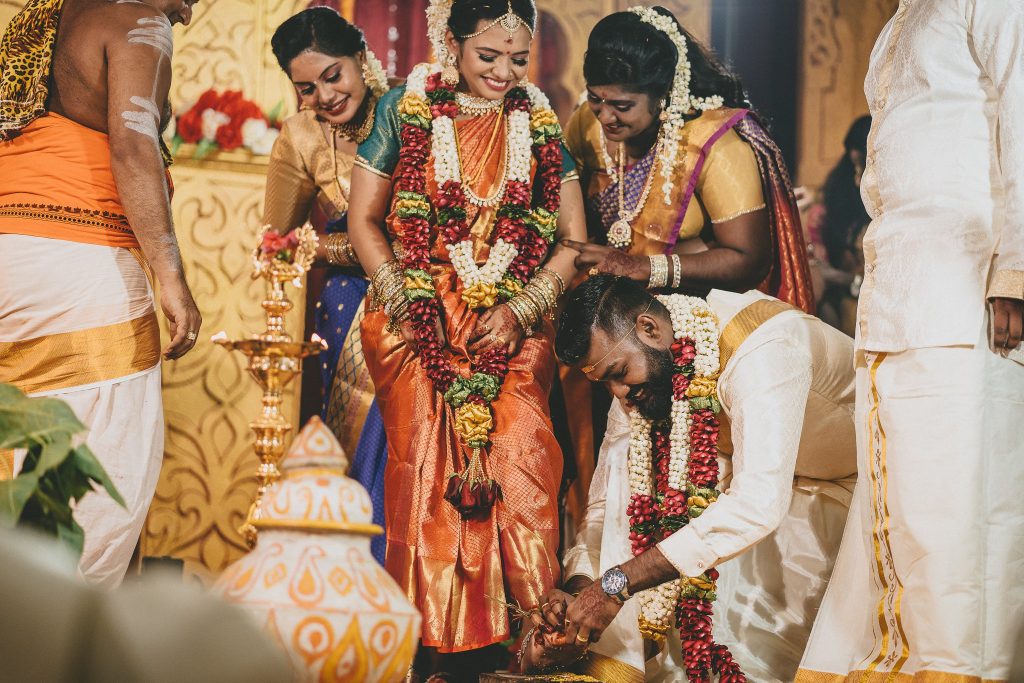 Toe ring-wearing ritual during sapta padi. Credit: AndrewKoe Studio
During sapta padi, the final ritual of the wedding ceremony, the couple walks around the ceremonial fire seven times — each time promising to love one another, to embrace each other's families like their own, to go through thick and thin together, to care for their offsprings, to cherish each other, to support each other's goals and to remain lifelong friends. The groom then places a ring on the bride's index toe, reminding her of her responsibility towards her new family.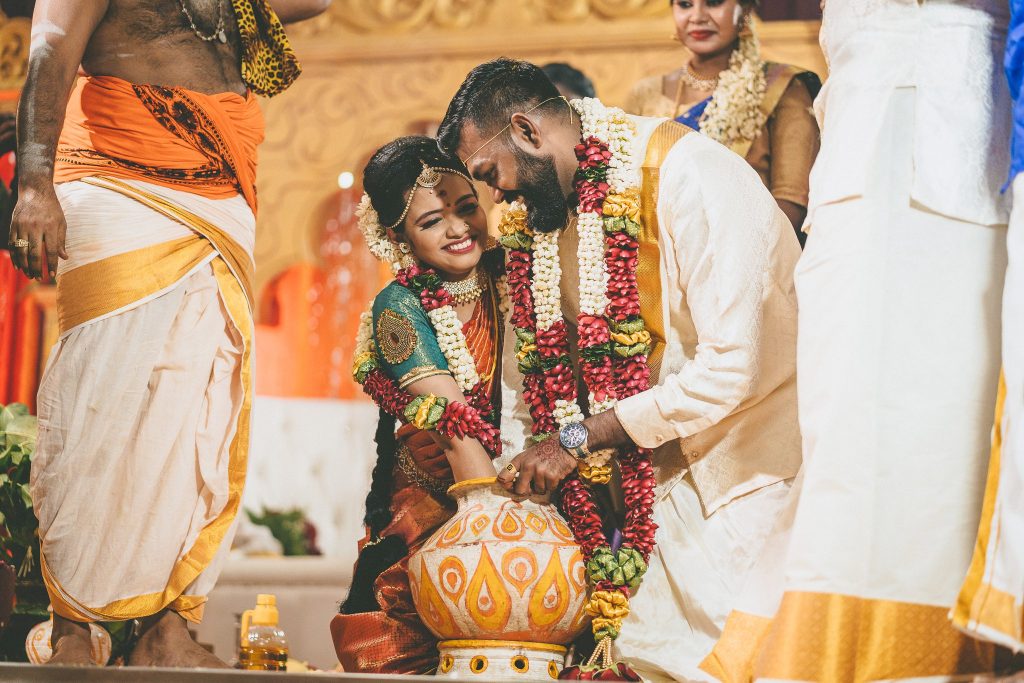 Credit: AndrewKoe Studio
After the couple is officially wedded, it is time for a fun ice-breaking custom known as valeyadal.
"The valeyadal was considered as an ice-breaking session between the newlyweds and their families in the olden days. At that time, the bride and groom only see each other on their wedding day as most marriages were arranged," says Sujata.
Amongst one of the games commonly played is picking out a ring from a pot filled with water. The newlyweds have to fight over it, and the one who successfully picks it first wins!
Wedding Attire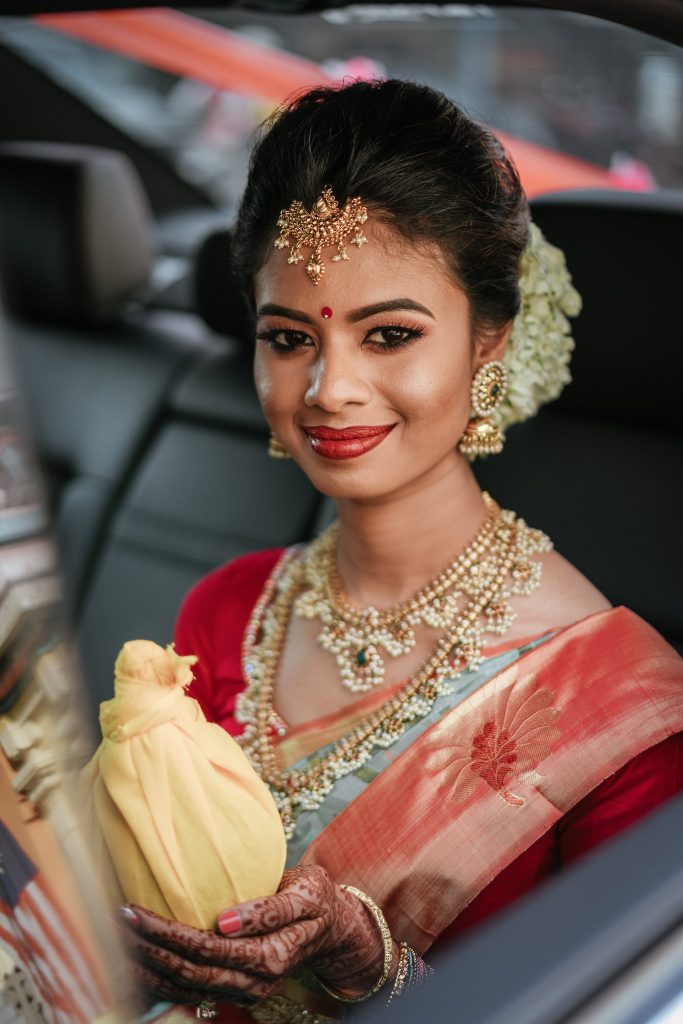 The bride usually ties her hair with flowers along with a golden Matha Patti, a piece of jewellery generally adorn her forehead. Credit: AndrewKoe Studio
An Indian bride is the epitome of glam — she is dressed in the finest saree, donned with haldi (herbal product), and decked with gold. Wedding sarees are often in auspicious colours and embroidered with gold or silver threads. Gold is the symbol of Goddess Lakshmi, the Hindu Goddess of good fortune. So it's no wonder that gold necklaces and bangles are part of the bride's bridal embellishments — they are believed to bring luck and prosperity in life.
Together, the saree, haldi, and gold pieces of jewellery make up a big part of the bride's solah shringar (literally translates into sixteen adornments). Solah Shringar comprises the bindi (colored dot worn on the center of the forehead), necklaces, earrings, flowers in the hair, finger rings, bangles, armlets, waistbands, ankle bells, kajal (kohl), toe rings, henna, perfume, sandalwood paste, and the upper garment and lower garment.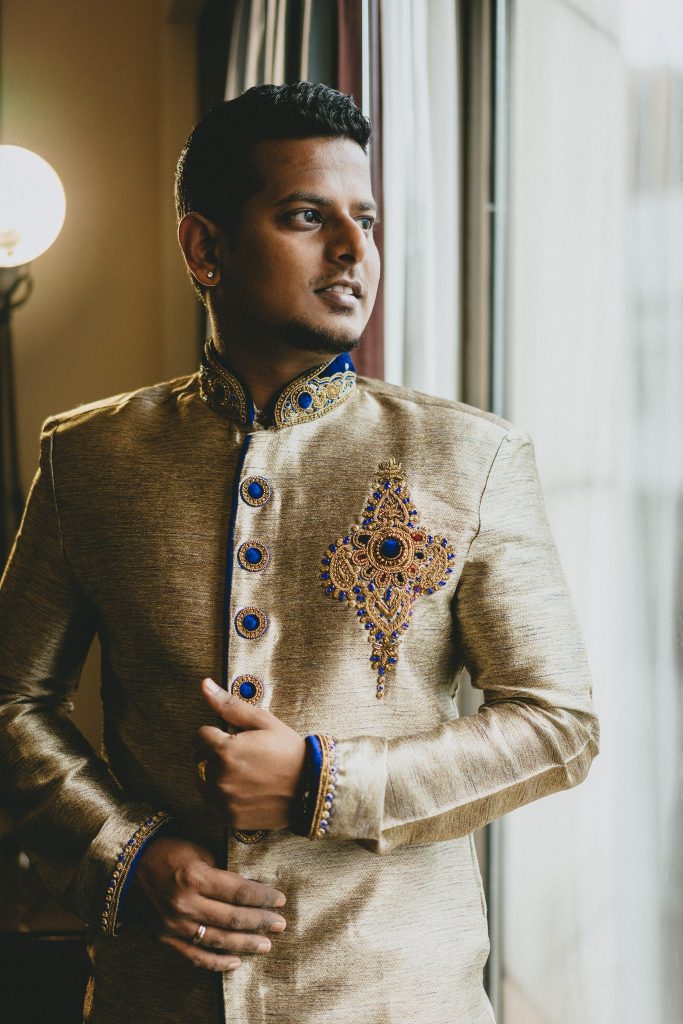 Credit: AndrewKoe Studio
The groom wears pattu (a homespun woolen fabric) or silk veshti (sarong) and angavastram (a cloth paired with veshti as a top cover). These days, though, a sherwani worn over a kurta is becoming a common attire for an Indian groom.
Food & Entertainment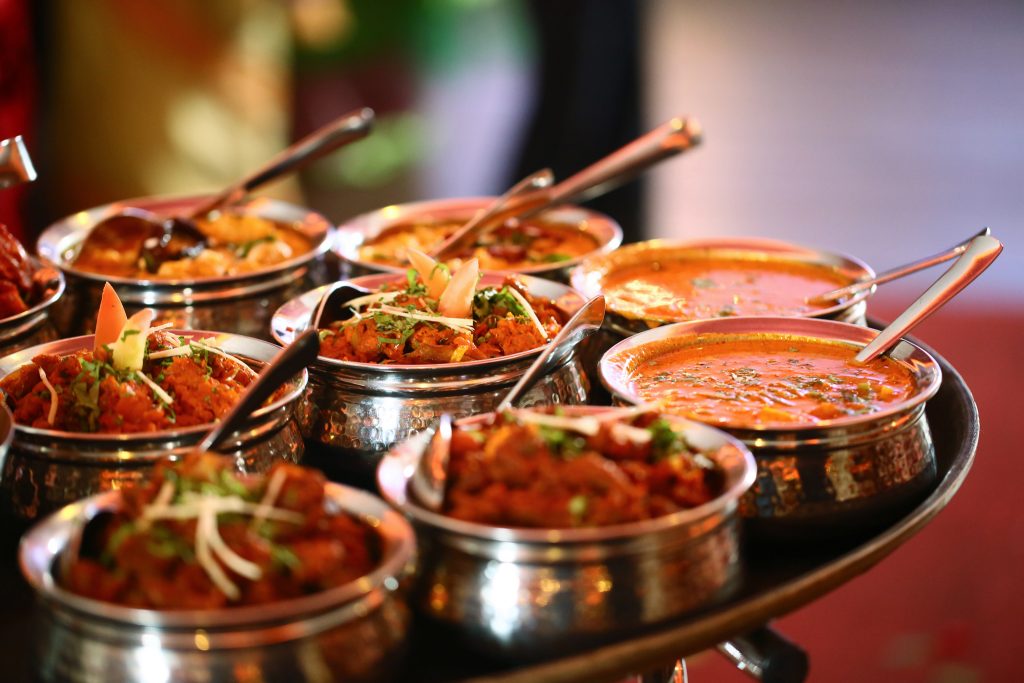 Credit: BestianKelly Photography
A banana leaf feast is a traditional way to honour a wedding — it is hard to imagine an Indian wedding ceremony without it. A banana leaf meal is served with white rice, dhal, sambar (lentil-based vegetable stew), poriyal (sauteed vegetable dish) , kuzhambu (a tamarind-based meat or vegetable dish), vegetables, pickle, banana, and more. Typically, every meal ends with a sweet dish, such as payasam or kheer (Indian puddings), for the couple's sweet beginning.
When picking out the entertainment for your Indian-themed wedding, pick something about the culture that resonates with your guests. Hiring Indian classical dancers to perform a traditional number adds to the ambience of your wedding and teach guests about the culture. Watching a classical Indian dance performance could be the first time for many of our guests, providing guests a common ground to bond.
If music is a shared interest between the couple and it's something that they want to highlight, then hiring a tabla and sitar performers is a great idea for a stand-out reception.
Wedding Favours
Send your guests home with something sweet! Typically, small boxes of Indian sweets like ladoo or barfi are presented to the guests, thanking them for gracing the ceremony. Alternatively, some of the best wedding favours are the ones that your guests will use long after the party is over, so consider gifting Indian decorative items like candle holders and lamps instead!
Suggested Wedding Itinerary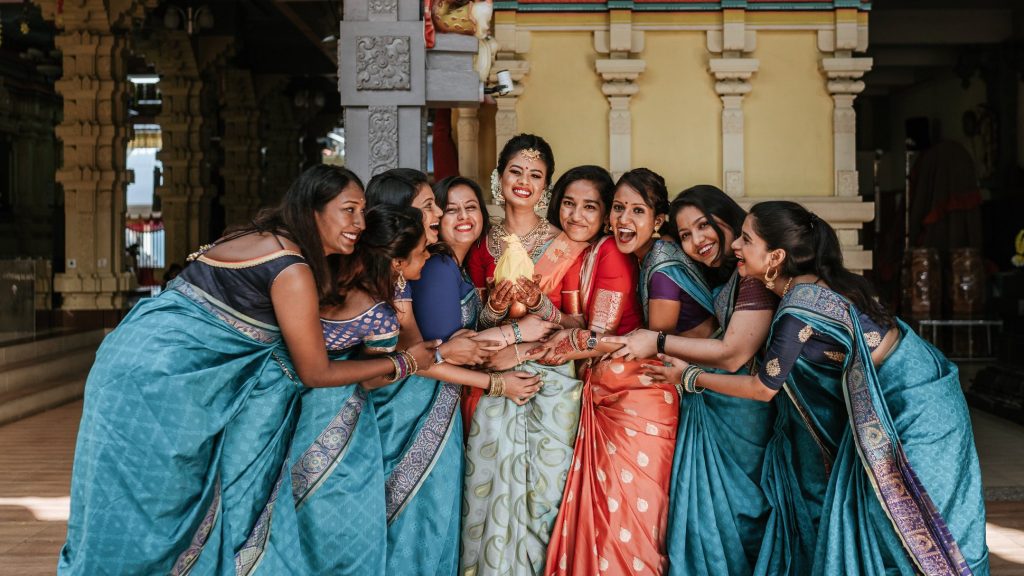 Credit: AndrewKoe Studio
Most destination weddings are multi-day events, lasting three to eight days. To help you plan your travels better, here's a suggested itinerary for your big day in Penang.
Note: Remember, each wedding itinerary is unique. If you have not done your dress fitting or your pre-wedding photography session, do consider to plan for more days. It is also best to hire a wedding planner for a stress-free wedding in Penang.
Day 1: Welcome to Penang! Take a good rest after checking in to the hotel.
Day 2:
Meet with your wedding planner to go through the final details, such as the schedule of the wedding days, guest seating list, and other essential details.
Inspect the wedding venue and meet with the person-in-charge of the venue.
Day 3 and day 4:
Meet up with photographer and cinematographer.
Marching rehearsal can be conducted during these days, provided if the bridal party has arrived in Penang.
Have a trial make up session today! You'll look gorgeous for your nalangu and mehendi sessions later tonight!
Enjoy a fun-filled nalangu, the pre-wedding Ceremony.
Enjoy a splendid ​mehendi (Optional)
Day 5:
This is the day of your wedding, which entails the following programmes:
groom's arrival
toe ring-wearing ceremony
patham pooja
thaali tying ritual
maalai maatral (flower garland exchange ritual)
red dot placing ritual
sapta padi (circling a sacred ceremonial fire)
valeyadal (ice-breaking games)
Day 6: ​This is a day for fun and relaxation. Give guests a list of fun activities in the area.
Day 7:​ How about visiting Penang's many attractions, places further away from the hotel?
Day 8:​ Time to say your farewells.
Related Links: